Trending:
There may be no harvest: what to treat cabbage with to fight whiteflies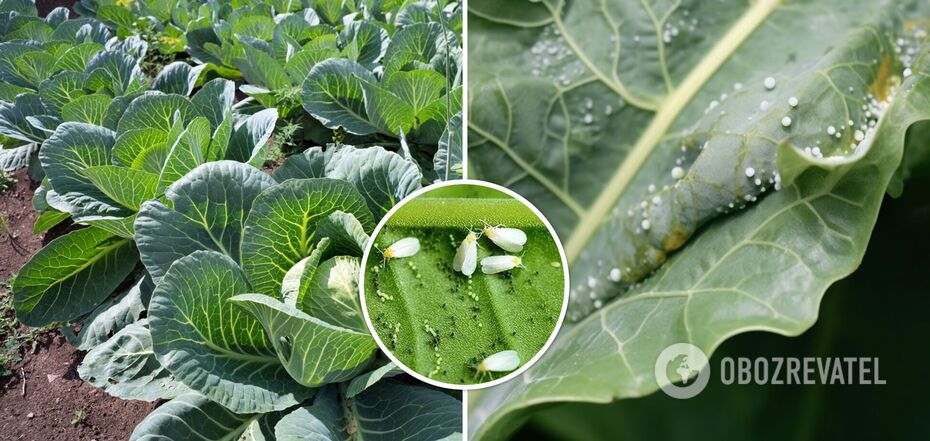 What whiteflies look like
Cabbage is a rather unpretentious plant, but pests can attack leaves and destroy crops in a matter of days. Experienced gardeners note that the rate at which whiteflies spread on cabbage is truly catastrophic.
Whiteflies are easy to spot with the naked eye: they are small butterflies with translucent white wings that usually settle on the underside of leaves. After infestation, sticky secretions and numerous deposits appear on the cabbage. The whitefly literally sucks all the juices out of the plant, so the leaves begin to deteriorate quickly and turn yellow. OBOZREVATEL tells what to treat cabbage with to fight whiteflies.
Prevention against pests
There is no universal preventive measure against whiteflies, but a few tips will help prevent the rapid spread and reproduction of pests.
First of all, it is worth taking care to plant cabbage early. Of course, frosts and low temperatures will spoil the seedlings, but it is also not worth delaying with transplanting into open soil. Experts recommend starting to use fertilizers already at the stage of active growth (nitrogen, green fertilizers, tincture of manure or chicken manure, ammonium nitrate).
In addition, these universal rules will protect against pests:
Fertilizing should follow the norms for a particular type of cabbage. Timely application of organics and tillage will help prevent pests.
Regularly pull weeds. Don't forget to loosen and mulch.
Follow the rules of crop rotation. White cabbage may not yield in beds where other varieties of cabbage were growing: cauliflower, brussels sprouts, beijing sprouts and broccoli. To know what other crops are prone to common pests, read the material.
In the heat, cabbage requires quality watering and spraying.
Calendula, marigold, garlic and spice plants next to cabbage will deter pests.
How to fight whiteflies
Cabbage leaves should be pre-treated with infusions of insecticidal plants (wormwood, potato haulm, yarrow, lavender). This is, according to experts, the best means to prevent the appearance of whiteflies.
You can also try baits: light (for nocturnal butterflies) containers of water, sweet liquids or fermented foods will attract whiteflies during flight. Aphids and moths can be selected for protection.
If whiteflies have already attacked cabbage, the following eco-friendlt and effective remedies can help get rid of them:
lavender essential oil (add 15 drops to 1 l of water) to spray the plant;
infusion of yarrow, dandelion, mugwort and mint (take 2-3 kg of herbs per bucket of water);
soap solution;
tincture of garlic, soap or tobacco (a bucket of water requires 200 grams of tincture).
Previously OBOZREVATEL told about two plants that you should not plant in the garden, because they can destroy the entire harvest.
Subscribe to OBOZREVATEL channels in Telegram and Viber to keep up with the latest news.