Trending:
Theater, film, and feminism in François Ozon's new comedy: an interview with actress Rebecca Marder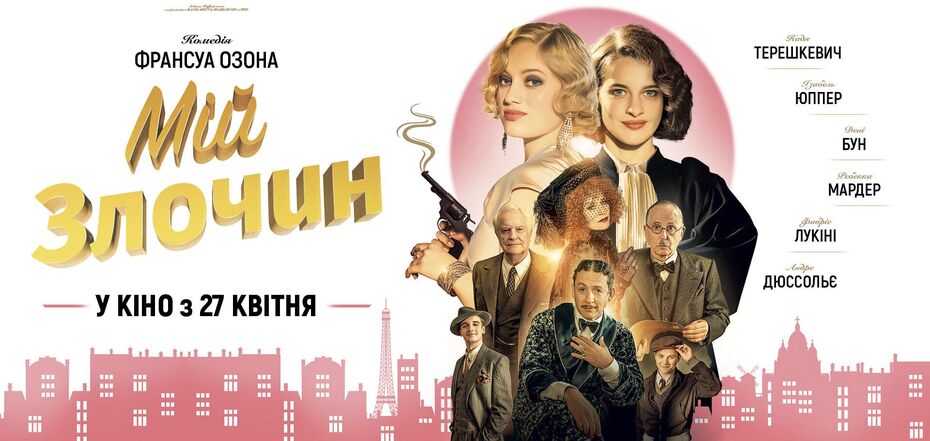 Actress Rebecca Marder, who plays one of the key roles in the film
On April 27, a French detective comedy " The Crime is Mine" will be released in Ukrainian cinemas. The film is directed by Francois Ozon, one of the most productive filmmakers in France, the creator of the famous films "8 Women", "Franz" and "The Pool".
The plot of the outstanding director's new film unfolds in Paris in the 1930s around a beautiful young actress named Madeleine. She is accused of the murder of a famous producer, but her lawyer friend helps the girl acquit herself thanks to a version of self-defense. From that moment, the protagonist begins a new life full of fame and success, but in time the truth is denounced.
Obozrevatel was able to talk to actress Rebecca Marder, who plays one of the key roles in the film - Pauline, a lawyer and girlfriend of the main character.
Can you tell us about the work on the film?
For seven years I was part of the Comédie Française company, so theater was my life. When I read the script of My Crime, I noticed that the text adopted the theatricality of the original play with tense, witty lines and contemporary themes. It was a world that was familiar to me, but with a new dimension: cinema. It was a joy for me to return to the theater through cinema.
When I read the script, I laughed out loud. Just like in the theater, we rehearsed a lot, sometimes right on the set. Costumes were sewn for us.
During filming, the set raged with excitement. We were constantly on the move and the shoot went very quickly. I felt like I was acting all the time - it was like the dramatic continuity you experience on stage when you're doing a play.
I liked it a lot because I really love these two very different areas of work. And I consider it a great fortune to do both film and theater.
You play a lawyer and the best friend of the main character. Tell us about your character and how you approached the role.
Yes, my heroine begins as Madeleine's best friend, her confidant and shoulder to cry on. At first she seems the stronger of the two, but we realize from her tenacious personality that she is fragile, especially in matters of the heart.
I prepared for the role with an opinion on lawyers. Finally, lawyers are a bit of an actor, and litigation is like a theatrical performance. So I thought of Pauline as an actress who supports her friend.
What is the relationship between the two central characters?
At first glance, Pauline and Madeleine may seem like classic rivals: blonde versus brunette, brash actress versus savvy lawyer. But their bond and complicity make them a force to be reckoned with. This duo is tightly bound by solidarity. They are very smart, but beyond that, they are allies. They dare to speak out--they take risks. They bet on their future as women.
This is a story about friendship in the high sense of the word. You don't often see in movies a friendship story without sexual overtones, when two women sleep in the same bed, take a bath together, and that's friendship for them.
Can The Crime Is Mine be considered a feminist film?
My character initially expresses a feminist position. She asks the journalist if it is okay for a woman to work as well as a man, but to be paid less.
Both characters play with figures of masculine dominance in the film, such as the attorney general. They dare to take the floor, and it takes place in the 1930s, when women did not have the right to vote, could not have a bank account.
It seems to me that these two female roles are quite visionary. These women want to live and work. They are feminist figures. Also, these incredible women support each other. They're smart, they sew others into fools. I think that's what was missing in all those 1930s movies. This film is primarily about sisterhood. And I think it really undercuts the idea of female competition, which really doesn't always exist. Why should the women here have to be rivals?