Trending:
The Pentagon is talking about creating the latest space weapons: lasers, radio waves and even chemicals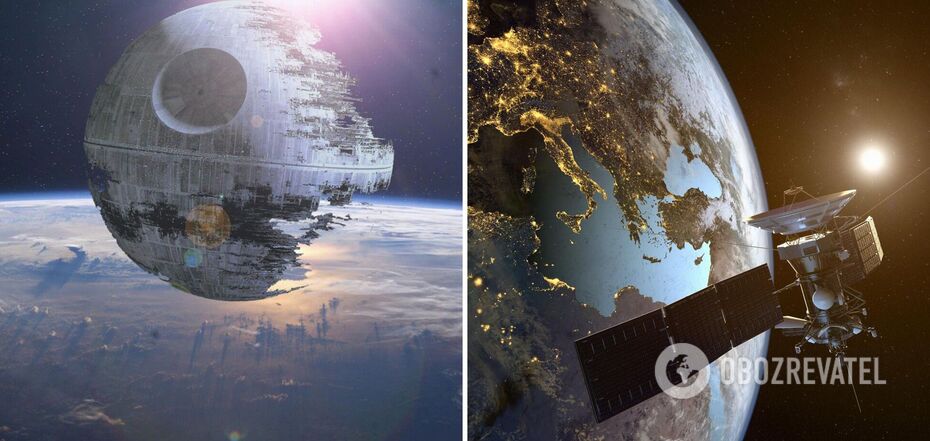 A Death Star may appear in the Earth's sky in the future to shoot down satellites. Source: Gamesradar/Getty/collage by OBOZREVATEL
The Pentagon's Defense Advanced Research Projects Agency (DARPA) has announced its intention to create new types of space weapons that could provide the United States with a "space advantage" over other countries. The agency has asked private companies to submit ideas that could be implemented later.
This is stated in a statement by DARPA. The agency is looking for ideas that can protect U.S. satellites from damage or disabling by enemy systems, as well as systems that can carry out their own attacks.
The agency's competition was announced as part of the initiative to "Bring Classified Innovation to Defense and Government Systems." DARPA explains that the goal of this initiative is to attract innovative companies to solve "complex problems in the classified field."
The U.S. Space Doctrine, published in 2022, talked about achieving space superiority through both defensive and offensive operations. Defensive operations involve protecting US space capabilities from enemy anti-satellite or anti-space systems. Offensive operations, on the other hand, are those aimed at misleading, disrupting, compromising, or destroying an adversary's military space capabilities.
And in this case, we are talking not only about space weapons, but also, in particular, about ground-based missiles that will be capable of destroying satellites in orbit. It is also envisaged to create laser or radio frequency weapons that will be able to completely destroy, blind or partially disable enemy satellites.
There are also options for creating space weapons that will be able to carry out radio frequency jamming or cyberattacks on ground stations. DARPA has also previously mentioned unusual weapon concepts, such as space chemical sprayers.
The appeal to private companies is due to the fact that the Pentagon is aware of the fact that the world has entered a new space race, and it is not only scientific, as it is possible that one of the space powers may take certain steps to close the space access for a particular state. Government agencies can also develop space weapons, but bureaucratic procedures can delay this process, while private companies can do it much faster.
"We want to change this scenario so that innovators who can offer the best ideas on the many unanswered questions and unique potential of the space industry have a seat at the table. We want to find solutions that we didn't even know we needed to establish and maintain superiority in space," said Michael Nayak, US Air Force Major, program manager for DARPA's Strategic Technology Directorate.
The US desire to protect its space presence is in line with the statements of the aggressor country Russia, which has repeatedly threatened to destroy the Starlink satellites of Elon Musk's SpaceX company, as they are used by Ukraine to conduct military operations in the temporarily occupied territories of our country.
Earlier, OBOZREVATEL reported that the "people's satellite", which was purchased by volunteers and handed over to the Defense Intelligence of Ukraine, played a very important role in the attack on Sevastopol Bay.
Subscribe to OBOZREVATEL 'sTelegram and Viberchannels to stay up to date with the latest developments.