Trending:
The house will shine: a simple cleaning mix will give your home a new life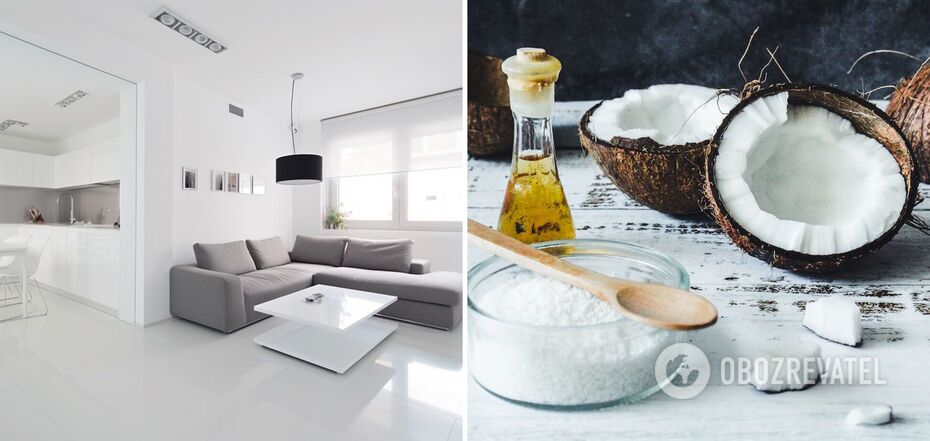 A lifehack that will make your house cleaner
Housewives spend a lot of time cleaning, especially in the bathroom and kitchen. It takes a lot of effort to get rid of stubborn stains and lime scales.
If you do not want to use chemical means, you can make a mixture from natural ingredients. OBOZREVATEL will help you cope with this.
You will need only two products: vinegar and coconut oil. Vinegar has antimicrobial properties and will effectively deal with stains and eliminate bad odors. Coconut oil can repel water from surfaces and remove stubborn dirt.
Such a mixture is most often used to clean faucets and sinks. Hard water damages the appliances, as well as leaves stains and deposits.
To get rid of dirt, mix oil and vinegar in a one-to-one ratio. Soak a cloth in the solution and wipe the surfaces, then rinse with water and wipe again with a clean one.
The mixture will also do a good job with limescale. Coconut oil can repel water from surfaces like showers and mirrors. Make the solution more liquid and spray the desired areas. Then wipe with a clean cloth and that will be enough.
This method will not only save you money but also effectively cope with stubborn dirt and stains in the house.
Earlier OBOZREVATEL revealed a common mistake of all hostesses during cleaning, which leads to even more dirt.
Subscribe to OBOZREVATELchannels in Telegram, Viber and Threads to keep up to date with the latest events.