Trending:
The harvest will double: how to fertilize the garden, except for manure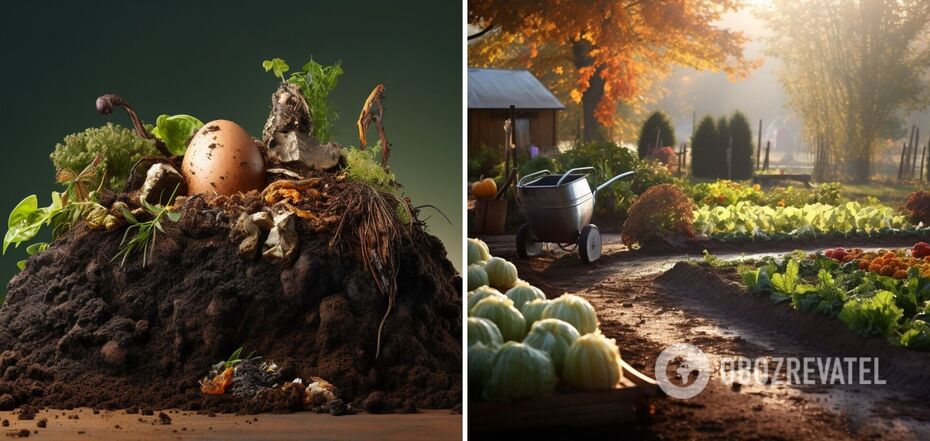 What can you fertilize your garden with besides manure
Manure is one of the most common types of fertilizers that owners often use to fertilize the soil. But if you are unable to get it for your plot, there are other affordable and high-quality options.
OBOZ.UA found out what can be used to increase the harvest. You don't have to spend money on expensive complex fertilizers.
Compost
Compost contains many nutrients and humus that improve soil structure and regulate its acidity. To get this fertilizer, you need to make a special area with wooden boxes.
Cover the bottom with straw or sawdust and collect animal and plant residues there during the season. But be sure to avoid sick plants.
Also, add ash, nitrate, and superphosphate to the composter to improve the trace element composition of the organic fertilizer.
Green manure
These are plants that are planted on a plot to improve soil fertility and avoid weeds. After sowing, they grow rapidly, their root system actively develops, which loosens the soil and fills it with oxygen and prevents erosion. You can also mow these green manure plants and bury them in the ground for even more fertilization.
In the spring, such plants are planted three weeks before the main crop is sown. In the summer, plant phacelia mustard between the beds, it contains many trace elements that are considered sources of energy for plants and help in metabolic processes.
Silt from the lake
Most owners have never even heard of this fertilizer, but it increases soil fertility. The silt collected in early summer should be added to the compost, and in the fall or spring, use the valuable fertilizer in the garden or in the garden.
If you collect the sludge in late summer, you can immediately apply it to the ground where there are no plants. You can also add manure and mineral fertilizers to it.
Earlier, OBOZ.UA told you which four green manure crops can restore the soil and completely replace fertilizers.
Subscribe to theOBOZ.UAchannels in Telegram and Viber to keep up with the latest developments.