Trending:
The easiest vegetables to grow at home: list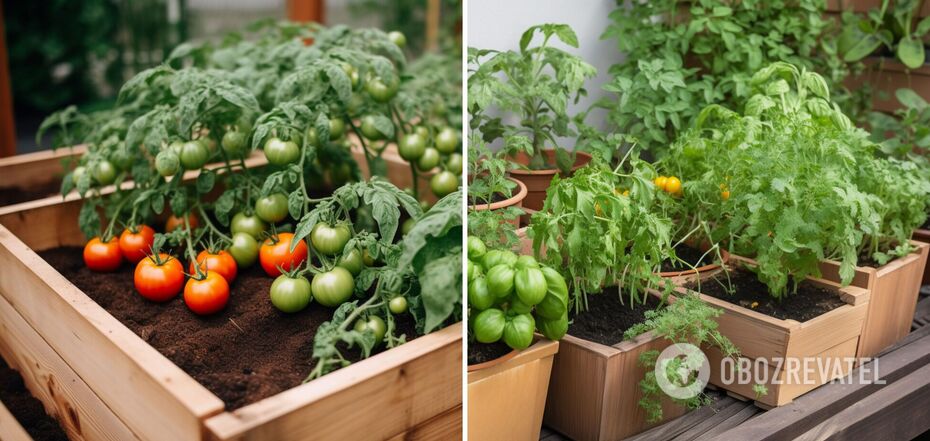 You can set up a vegetable garden right on your balcony
Vegetables from the store do not please you with their taste and you do not have a vegetable garden to grow on your own? Experienced gardeners say that this is not a problem. It is possible to grow a good harvest on a window sill with a balcony, if you study the issue properly.
All you need for such gardening is a few pots of different sizes, some all-purpose soil and seeds. Country Living has compiled a few options for vegetables and herbs that also grow well at home.
But before you take up indoor gardening, make sure you have a place in your home where the plants can get 6 or more hours of direct sunlight a day. All of the species listed love heat and light.
Lettuce and other leafy salads
Green salads, especially lettuce, germinate from seeds easily and are inexpensive to care for. You can harvest your first crop about 30 days after sowing the plant. Lettuce has shallow roots, so it will do well even in small containers and pots. You will need to keep the soil moist until sprouting, and then water the plants as needed.
Annual herbs
Annual salad herbs include thyme, dill, cilantro and basil. All of the above grow well in pots on the windowsill. However, if you want to grow basil, keep in mind that it is sensitive to various plant diseases. So go for the seeds of the more resistant species.
Beans
There are many varieties of beans (bushy or curly) that will do well in a home bed. They give a good harvest, but the curly varieties will need a support to climb on to get as much sun as possible. When the first pods are ripe, start taking them off the plant right away, because the more you harvest, the better the plant will yield.
Leaf beets (chard)
Beets, which are grown on leaves, has such an aesthetic appearance that it can decorate any windowsill. At the same time, it is a very nutritious green. Growing chard is as easy as growing lettuce. And it is not afraid of cool weather and will give a harvest even in the fall. It can be replanted at intervals of a few weeks to harvest nutritious leaves throughout the season.
Cherry Tomatoes
Small tomatoes are more expensive than usual only in stors, at home they are easy to grow and very prolific. If you want, you can grow several varieties at once like red, yellow and brown, round and creamy. But find out how tall the variety you choose grows, because some can reach 3 meters or more in height and need proper support.
Perennial grasses
These plants are sown once so that they can be harvested for several years. These include thyme, oregano, sage, mint and tarragon. Perennial herbs grow well in containers, but keep in mind that if you store them in winter in an unheated garage or basement, the pots will probably need to be covered to keep the roots warm.
Cucumbers
Freshly picked cucumbers are the crispiest, which is why it makes sense to grow them on a balcony. Especially since they will give a decent yield in this case. Seeds should be planted in a pot or box as soon as there's no risk of frost. In about 60 days after that the first fruits will be ready for the table. Do not forget to plant flowers thjat attract insect pollinators nearby, as without them there will be no harvest.
Peppers
You can grow both sweet and hot varieties at home. But make sure that the plant will get enough heat in your home. Many peppers can be harvested green for a more bitter flavor or let them ripen and consume sweet. It is all a matter of choice.
Kale
This curly kale is a champion of nutrients. And because of its resistance to cold, it can be harvested all the way through the fall. Some varieties can even survive the winter and yield again the following year. Some varieties can be used for hot dishes while others will be good in salads.
Pumpkin
Plants of the pumpkin family give an excellent harvest. And there are many ways to prepare them. It can be zucchini fritters, pickled patissons, pumpkin porridge and soups. Just 2-3 plants will provide fruit for you, your relatives and even neighbors. But they will need a lot of space, so it may not work on a cramped balcony. It is also important to attract insect pollinators.
Arugula
These spicy greens grow very quickly and can be sown in waves several times during the summer. One packet of seeds is enough for quite a long time. Arugula can be sown in early spring and grown until autumn as it is not afraid of cold.
If you decide to try houseplanting, use OBOZREVATEL's advice on how to wean your cat from using plant pots as a toilet.
Subscribe to OBOZREVATEL channels on Telegram and Viber to keep up with the latest developments.