Trending:
The best way to get rid of dust at home: tips from cleaning experts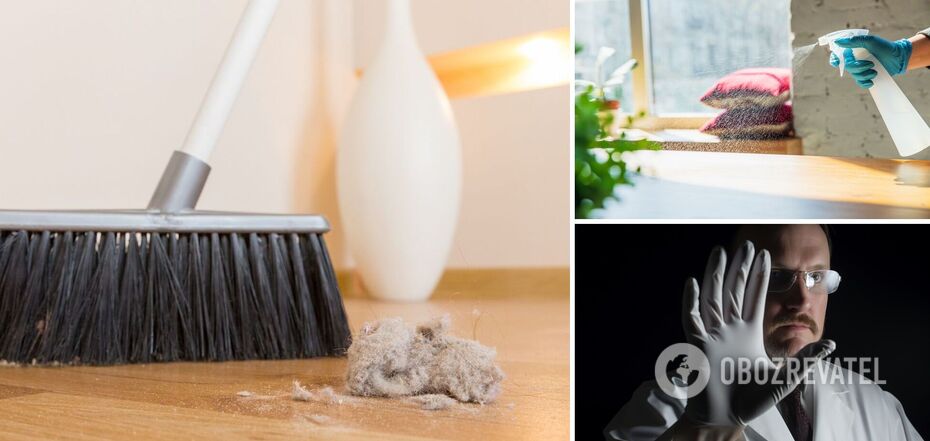 How to get rid of dust at home
Dust accumulates even in the cleanest homes. A mixture of small particles such as skin cells, dirt, clothing fibers, and textiles can not only create a visually unaesthetic effect but also cause health problems.
It's important to keep up with your cleaning routine and dust regularly. Apartment Therapy shares the most effective way to get rid of dust at home.
How to get rid of dust
Step 1. Gather your dusting supplies
Dusting does not require many tools and products. You only need some things that you probably already have in your home. To get started, Karina Toner, manager at Spekless Cleaning, suggests grabbing a microfiber cloth or cloth, a vacuum cleaner with a dusting attachment, and a mild all-purpose cleaner.
Step 2. Clean up
First of all, remove any clutter from the surfaces you are going to dust to ensure easy access.
Step 3. Microfiber
Use a microfiber cloth or rag to dryly clean surfaces such as shelves, countertops, and electronic devices. If you're dusting walls or tall furniture, always start at the highest points in the room and work your way down: this will prevent dust from settling on the cleaned surfaces.
Step 4. Vacuum cleaner for soft surfaces
Use a vacuum with a dusting brush to remove debris from soft surfaces such as upholstery, curtains, and lampshades.
Step 5. Wet cleaning
For surfaces that require a more thorough cleaning, lightly dampen the microfiber cloth with all-purpose detergent (but do not soak it).
How to remove dust from the fan
Fans can easily accumulate dust particles and then spread them around the room. The expert recommends using a microfiber cloth or a vacuum cleaner with a long nozzle to clean the individual fan blades one by one. Will Cotter, COO of FreshSpace Cleaning, also advises gently wiping dust from the fan casing, including any light fixtures, with a microfiber cloth.
How to remove dust from blinds
Use a microfiber cloth or a disposable dust cloth. Start at the top and work your way down both sides of the blinds. Then head to those window sills. For a deeper clean, you can even use a vacuum cleaner with a brush attachment.
How to remove dust from walls
Always dust walls from top to bottom, starting with the finish and working your way down to the baseboards. Experts recommend using a microfiber mop or a cloth wrapped around a mop, paying special attention to the corners.
How to clean plants from dust
Dust-covered plant foliage can impede the proper growth of greenery. You can remove dust from plants with a soft, damp cloth, which not only removes dust but also allows plants to breathe better.
Earlier, OBOZ.UA shared what place in the kitchen almost all housewives forget to clean.
Subscribe to OBOZ.UA on Telegram and Viber to keep up with the latest events.