Trending:
The air will be cleaner: which indoor flowers absorb all toxins at home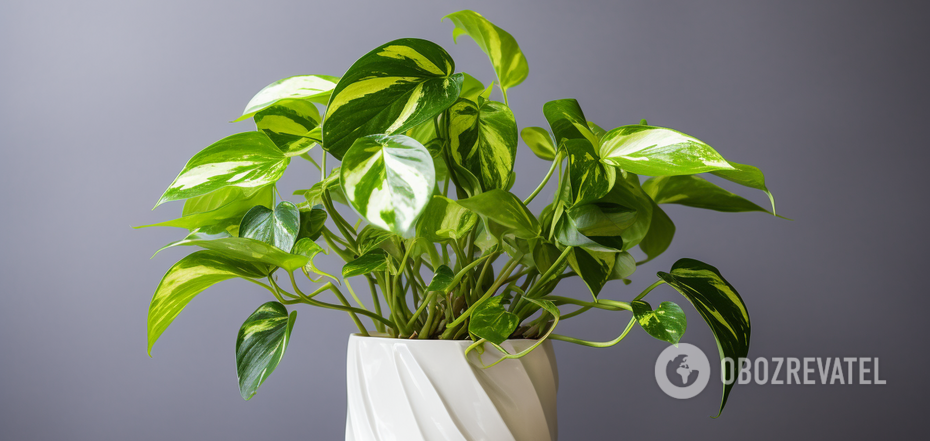 Epipremnum is not only effortless to care for, but also brings real benefits to the home
A well-groomed live plant is a luxurious decoration for any home that you can buy for little money, or even take a shoot for free and grow it yourself. But the benefits of home flowerpots do not end with decorative qualities.
Experts say that some species can cleanse the air in the house of toxins. OBOZREVATEL tells you what plants you should get to improve the atmosphere in your home. None of them will require much care and are suitable even for beginners in home gardening.
Epipremnum
This is a beautiful deciduous vine that can be used to form spectacular cascading compositions. At the same time, it requires very little care - it tolerates missed watering and is very undemanding to lighting and humidity. And even in not the best conditions, epipremnum grows very quickly. It purifies the air very well - the species is considered to be one of the most effective in this regard. However, if you decide to decorate your home with this plant, remember that it can be toxic to cats and dogs.
Philodendron
It is a close relative of epipremnum, which is just as easy to care for, but has a greater variety of foliage types. It grows just as fast and forms beautiful arrangements, regardless of whether you want its stem to hang down or climb up a support. Philodendrons are best suited to deal with formaldehyde and other harmful gases that can be found in the air of modern housing. However, it can be harmful to pets and children, so it should be kept away from them.
Sansevieria
The most common species of this plant is the so-called "mother-in-law's tongue" or Sansevieria tricolor, which is capable of growing very tall, tough leaves of dark green color with yellow stripes along the edges. An adult plant can be so large that it can serve as a visual dominant in the interior. But the variety of sansevierias does not end there - they can be miniature and medium-sized, with wide leaves, and with tubular leaves, monochromatic and variegated. All of them have two things in common: they are perhaps the easiest to care for and the most resilient houseplants, and they are champions in cleansing the atmosphere of the house from harmful gases and dust. Even if you don't water the flowerpot for a month, it won't lose its appeal. The only special care required for sansevierias is periodic wiping of the leaves so that they can filter the air even better.
Earlier, OBOZREVATEL told you which plants help to fight excessive humidity in the house.
Subscribe to OBOZREVATEL's Telegram and Viber channels to keep up with the latest developments.