Trending:
The 5 best UK destinations for a summer vacation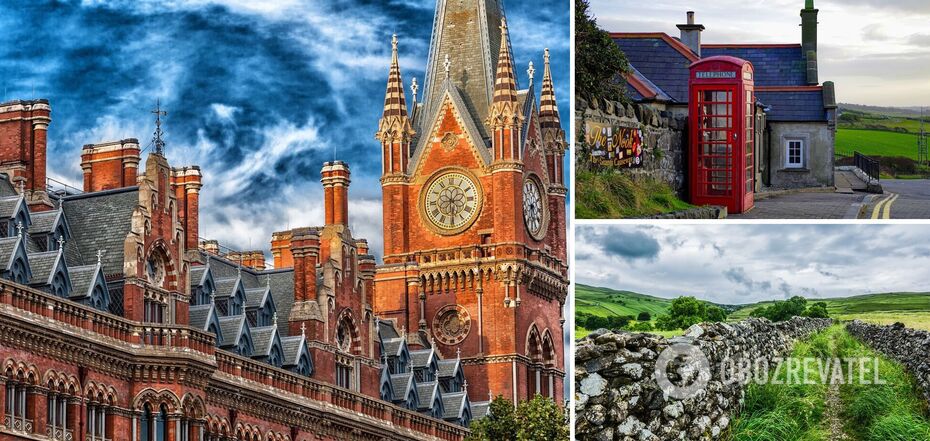 What to see in the UK in the summer of 2023
Distant and unattainable... That's how you can characterize the UK. It's not easy to get here. And it is not because of poor transportation or even high prices. The point is that it is very difficult to get a visa of this state. Tourists sometimes have to apply several times to realize their dream. Nevertheless, all these efforts justify themselves, because this country is a paradise for traveling. Especially if we are talking about the following 5 destinations.
Brighton
It's hard to call this city classic. It is filled with the energy of uniqueness and unusualness. Just imagine: an ancient fishing settlement, which several centuries ago, for some completely unknown reason, began to massively attract the attention of various interesting people (let's call them informals of their time). Even then the best parties of the country were held here. What to say, even the largest palace of the city - the Royal Pavilion - was built solely for entertainment.
Now there are many pubs, concert halls, clubs and just cool places for young people and not only. Most of the exclusive establishments can be found on a narrow lane called The Line. These colorful cottages once housed the elite who came from London. Now there are antique stores, cafes and souvenir stores.
If you want to really get to know the city, plan your trip around the Brighton Festival. It usually takes place in late spring. It's an incredible 3-week show that attracts international artists, musical performers, actors, and other incredibly talented people. In total, there are over 400 diverse cultural events.
Stonehenge
This mysterious place is known to almost every inhabitant of our planet. It is shrouded in as much mystery as the stone blocks of which the incomprehensible circle is laid out. Historians, esotericists and representatives of other industries still can not come to a single opinion about the purpose of this location. Some believe that this is a ritual construction, others are sure that here was a "parking lot" for UFOs.
In any case, many people come here every day to see this miracle and feel the very energy that experts in the supernatural talk about. A little tip: if you want to touch the blocks rather than look at them through the fence, plan a tour for the morning or late evening. At other times, you won't be allowed into the attraction.
Bath
This town combines Roman, Georgian and British cultural traditions. It was founded many years ago on the thermal springs. At that time there were popular open-air baths where everyone came. Now it is a developed SPA-resort.
Although Bath was founded by the Romans, it is now famous for its Georgian architecture. This is the merit of the rich businessman Ralph Allen and architects John Wood the Elder and John Wood the Younger. It was they who created a little Tbilisi here in the midst of Great Britain.
Walking along the streets of this city, you will see many golden townhouses, luxurious villas, quiet pubs, cozy restaurants and, of course, green areas with bike paths.
Cotswolds
This is not just any town or individual resort, but an entire region with many quaint villages of striking beauty.
The Cotswolds cover six English counties at once. Its main feature is its incredible nature. Whichever path you take, you'll find honey-colored cottages, rose gardens and pubs with some of the country's tastiest ales.
Prepare to have to do a lot of walking to see the beauty of the region. Many of the roads are not accessible to motorists. There is a certain special charm to it.
However, you should not think that there is nothing but countryside here. The Cotswolds are known for their boutique hotels that provide a comfortable vacation and a wide range of spa services.
Oxford
Of course, you've heard of this fascinating student city, home to one of the world's best universities. However, tourists come here not only to look at the luxurious buildings of a higher educational institution and communicate with local academics. A special atmosphere has been preserved here for many centuries, which attracts foreigners.
You should start your acquaintance with Oxford from the central part of the city. Here you will see Carfax Tower, the old Town Hall, St. Aldean's Church, many galleries and several university buildings. Walk a little further to enjoy the view of Magdalen College and Church College. Don't overlook Oxford Castle and Blenheim Palace. Be sure to visit the pubs there, famous for their tasty drinks, which are made according to ancient recipes. If you're looking for original souvenirs, head to Cornmarket Street, lined with dozens of stores, boutiques and souvenir stores.
This is just a small part of what you must see in the UK. It's an incredible country, with every region of the country able to surprise you. From Scottish nature to exquisite English architecture, everything here has some kind of amazing atmosphere that you won't find anywhere else in the world. So don't let the lengthy visa process scare you away.
Earlier OBOZREVATEL told about mysterious places from around the world, which are adored by tourists.
Only verified information from us in Telegram-channel Obozrevatel and in Viber. Do not fall for fakes!