Trending:
Stroke and heart attack treatment is free of charge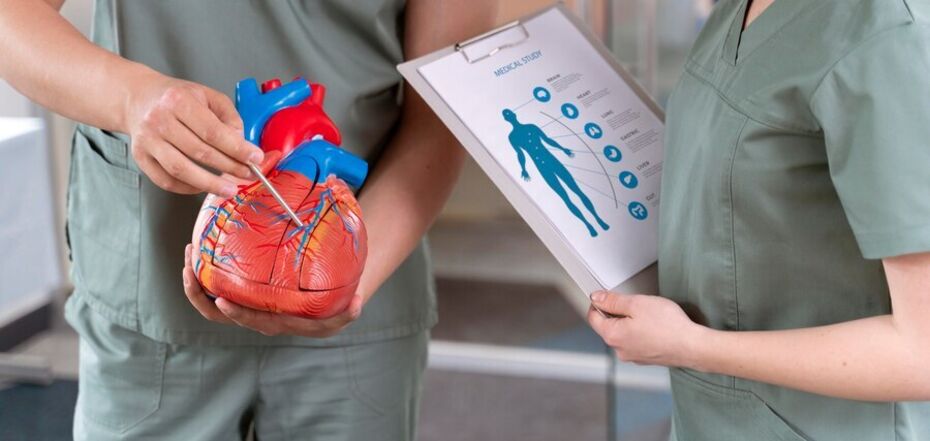 Prevention, diagnostics and treatment of cardiovascular diseases are priority areas in the Medical Guarantee Programme. Source: freepik.com/author/freepik
Under the Medical Guarantees Program, 78,865 patients received free medical care for acute cerebral stroke in 2023, and 21,033 patients received free medical care for acute myocardial infarction. The NHSU paid over UAH 2.22 billion to the institutions for the services provided.
"In times of war, constant stress and tension, the risks of developing cardiovascular diseases are higher than ever. These are diseases that develop unnoticed and can eventually lead to strokes and heart attacks. Therefore, it is important not to put off your health for later. If you have not been to your family doctor for a long time, make an appointment. Even an initial examination by a doctor, measurement of blood pressure and pulse, and a cardiogram will help to detect cardiovascular diseases in time and prevent their complications. The medical guarantee program fully covers the prevention and treatment of cardiovascular diseases. In particular, all necessary laboratory and instrumental examinations, medicines under the "Affordable Medicines" program, which can be obtained free of charge or with a partial co-payment. As well as specialized assistance in the treatment of strokes and heart attacks," said Natalia Husak, Head of the National Health Service of Ukraine.
Prevention, diagnosis and treatment of cardiovascular diseases, including acute cerebral stroke and acute myocardial infarction, are priority areas in the Medical Guarantee Program.
If you notice a noticeable change in blood pressure, heartbeat or pulse, contact your doctor. Your doctor will assess your overall cardiovascular risk. If necessary, they will refer you for an electrocardiogram, a blood test for total cholesterol, and a rapid troponin test. The doctor will write an electronic referral for a consultation with a cardiologist and additional tests. With an electronic doctor's referral, these services are free of charge for the patient.
You can also get an electronic prescription for "Affordable Medicines" from your family doctor. Today, the program includes 232 brand names of medicines for the treatment of cardiovascular diseases and primary and secondary prevention of heart attacks and strokes. These medicines can be obtained free of charge or with a partial co-payment in pharmacies that have an agreement with the NHSU, which is more than 13.6 thousand private and municipal pharmacies across the country. Medicines can be obtained by e-prescription at any pharmacy, regardless of the place of residence.
Patients can receive specialized medical care free of charge in institutions with an agreement with the National Health Service.
There are 229 medical institutions that have a contract with the NHSU for the treatment of acute cerebral stroke, and 74 institutions for the treatment of acute myocardial infarction. Medical care for stroke and heart attack is free of charge when delivered by an emergency (ambulance) team, when self-referred in an emergency or when transferred from another hospital.
In these facilities, patients can receive all the necessary assistance free of charge. There is no need to pay extra for medicines or examinations. The cost of treatment is paid by the NHSU.
For stroke treatment, the institution receives for the care provided to the patient:
- UAH 131 472 for endovascular interventions;
- UAH 62,565 for thrombolytic therapy;
- UAH 14,952 for care without endovascular interventions or thrombolytic therapy.
For the treatment of a heart attack, the facility receives UAH 43,573 for providing care with stenting. If stenting was not performed, the NHSU pays UAH 25,261 for the medical care provided. The price includes the necessary laboratory and instrumental examinations, treatment, all necessary medicines and medical devices.
The following services are provided free of charge to a patient with a heart attack or stroke
diagnostics (CT, MRI, angiography, laboratory tests);
thrombolytic therapy (for stroke), stenting (for heart attack);
round-the-clock monitoring of the patient's condition in the intensive care unit;
medical rehabilitation in the acute period;
medicines from the National List of Essential Medicines and consumables;
Medicines and medical devices that are procured centrally at the expense of the budget (for example, stents);
inpatient nutrition.