Trending:
Star system with four "suns" found: scientists have no idea how this is possible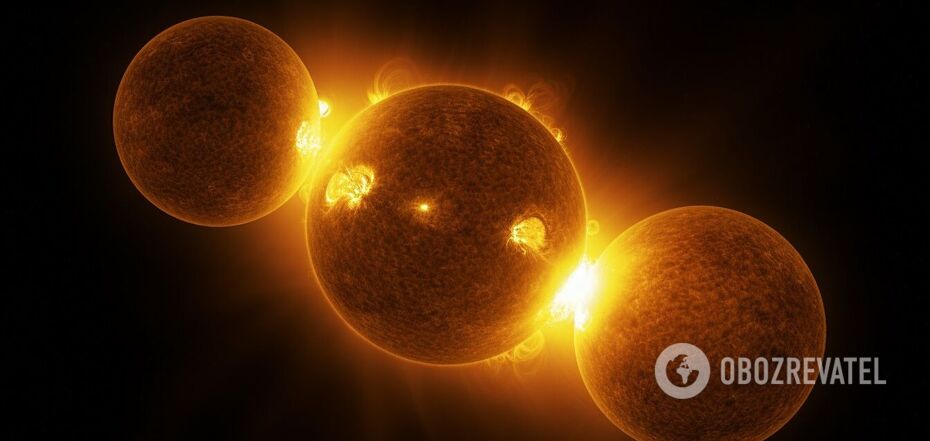 Star system
Scientists have discovered a young star system with four "suns" at once, which is located in the star formation region in the constellation of Orion. The unusual phenomenon was discovered by scientists from Chile during the study of 72 giant molecular clouds of Orion.
The discovery was made by the international team ALMA Survey of Orion Planck Galactic Cold Clumps (ALMASOP). These observations explain the origin and formation of double and multiple-star systems.
Scientists have long known that about half of the stars in the Milky Way are in double systems. Scientists hope to better understand how planets form and life appears on them through the study of such multiple star systems.
According to the most common theory of star formation, celestial bodies form in the densest regions of molecular clouds, also called "dense cores." This theory explains the formation of individual star systems, but the formation of systems with four stars researchers is still unknown.
According to scientists, multiple star systems can form due to the fragmentation of cloud nuclei during their early evolution, but there is no evidence and observations of such processes yet.
The quadruple star system consists of two protostars and two concentrations of gas, which are likely to suffer a gravitational collapse shortly and become stars.
It is also interesting that the greatest distance between the four objects in the system was about 1000 astronomical units (a.u.), which is 33 times the distance between the Sun and Neptune.
The dust emission spectra also revealed several elongated ribbon-like structures that bound the four objects together. The team suggests that these extended ribbons may be "funnels" transporting gas from the outer shell of the core and connecting the newborn stars.
"The stunning compactness and proximity of this system is a fascinating discovery. Analysis shows that this system is likely to form a gravitationally bound four-star system in the future. We have no explanation for how the gas leaks spread, as they may be related to the gas accumulation processes of the system members," said Prof. Liu Tie of the Shanghai Astronomical Observatory (CAS-SHAO), who led the study.
Earlier OBOZREVATEL published the research of scientists about the mineral, which lightning first created on Earth.
Subscribe to OBOZREVATELchannels in Telegram and Viber to be aware of the latest events.