Trending:
Skull of a previously unknown human species found: what makes it special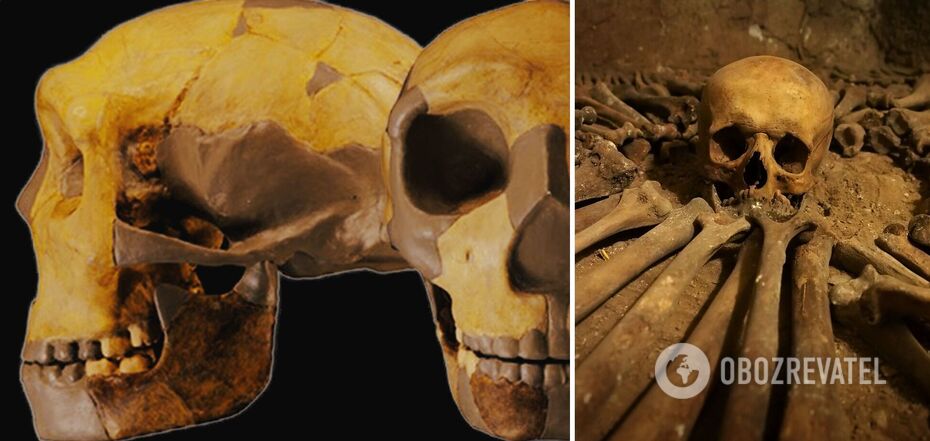 The remains of a previously unknown relative of modern humans have been discovered in China. Source: Journal of Human Evolution/Getty/collage OBOZREVATEL
A skull has been discovered in China, probably belonging to a previously unknown species of ancient humans. Since its structure does not resemble any of the known species of ancient humans, scientists assume that it belongs to some new branch of the human lineage.
This is stated in a study published in the Journal of Human Evolution. The remains themselves, as ScienceAlert notes, were found back in 2019.
An international team of scientists discovered an ancient human fossil in Hualundong, in East Asia. At that time, a jaw, skull and leg bones belonging to this as yet unclassified human, designated as HLD 6, were discovered.
After the discovery of the remains, scientists tried to match them with one of the already known species of ancient humans, but all proved futile.
The researchers said that the hominin's face is similar in structure to that of modern humans who split from Homo erectus 750,000 years ago. However, the absence of a chin suggests a connection to the Denisovans, an extinct species of ancient humans who separated from Neanderthals more than 400,000 years ago.
After several years of trying to establish its identity, scientists have come to the conclusion that they have discovered a completely new lineage. They believe that this hominid was a hybrid between the branch that gave us modern humans and the branch that gave the Denisovans.
This is not the first species of ancient humans from the Pleistocene to be found in China, and it is not easy to fit into one existing lineage. Previously, such remains were explained as intermediate variations of humans on the evolutionary path to modern humanity. Sometimes such hominids were called archaic Homo sapiens or advanced Homo erectus.
But this generalization is often criticized by scientists who consider this interpretation simplistic and contradictory.
Earlier studies of the genome of Neanderthal remains in Europe and Western Asia revealed evidence of a fourth line of hominin who lived in the middle and late Pleistocene. But fossils proving their existence, scientists did not have. Now scientists are hoping that these particular remains discovered in China are the much-needed proof.
The jaw and skull, the researchers determined, belong to a child of 12-13 years old. His face has features of a modern human, but the limbs, skull and jaw reflect simpler features.
The researchers believe that the physical features identified in this long-lived hominin confirm the coexistence of three lineages in Asia - the H. erectus lineage, the Denisovan lineage and this other lineage.
Earlier OBOZREVATEL told that scientists showed the face of one of the oldest Homo sapiens, who lived 30 thousand years ago.
Subscribe to OBOZREVATEL channels in Telegram and Viber to be aware of the latest events.