Trending:
Should you wipe the washed dishes with a towel: the answer will surprise you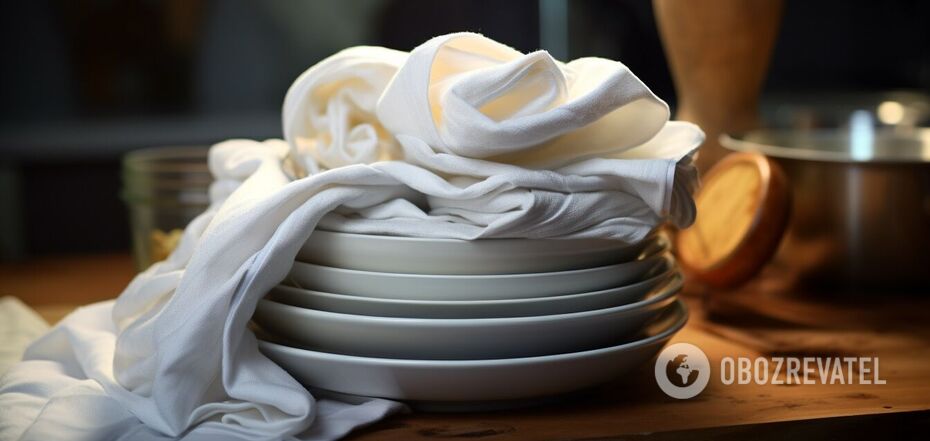 Should you wipe washed dishes with a towel
After washing the dishes, most housewives wipe them with a towel to remove excess moisture and avoid water marks and stains. But using this method of drying plates can be dangerous.
It all depends on the cleanliness of the towel and the material. OBOZREVATEL looked into this issue.
From a hygienic point of view, the best way to dry dishes is to put them on a special dryer in a well-ventilated room. But when you need to free up space faster, housewives use towels to wipe the plates and put them back.
The first thing you need to pay attention to is the cleanliness of the fabric. Kitchen towels get dirty quickly and, due to constant moisture, they create a favorable environment for the growth of bacteria and germs that can get on various surfaces and negatively affect our health.
Also, choose microfiber towels for wiping dishes. This is a safe material that absorbs moisture quickly and does not leave lint or stains. If you have already started wiping the plates, do it carefully, because the slightest humidity can lead to bacteria.
Towels made of other materials usually leave lint after wiping and may not completely absorb all the moisture, but simply transfer bacteria from one surface to another.
Also, do not use paper towels. Not only will it take you a lot of napkins to wipe everything, but you won't remove all the liquid and small particles of towels will stick to the dishes.
If you have a dishwasher, use it. This way you can be sure that the dishes are sanitized, clean and dry.
Earlier, OBOZREVATEL published useful tips to help you store your dish sponge so that it doesn't stink.
Subscribe to OBOZREVATEL 's Telegram and Viber channels to keep up with the latest developments.