Trending:
Should you cut strawberry bushes for the winter: how not to spoil the future harvest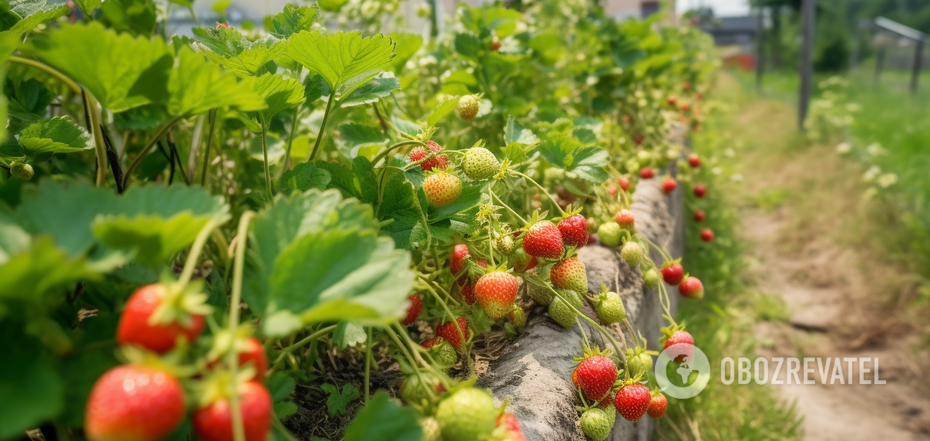 Gardeners are not advised to cut off strawberries leaves before winterization
The season of preparing strawberries for winter is at the end of August. Thus, next year the plant will please with a good harvest. Vegetable gardeners transplant the runners of the plant. Some also cut the leaves on the bushes.
OBOZREVATEL found out whether it is worth cutting them off and how to care for strawberries properly on the threshold of winterization in general.
Experts say that strawberry bushes grow new leaves in August, the task of which is to shelter the plant in winter from cold and snow. It makes no sense to cut them off. It is better to let the leaves fade in the fall naturally. In this case, they will protect the root system of strawberries on frosty nights.
The plant will begin to wake up from the root system in spring and last year's leaves will be needed for this. First of all, they will give the roots the necessary food for germination. This is why it is not necessary to cut strawberry leaves off at the end of the season. This can damage the plant.
However, you need to remove them when there are signs of disease. In this case, the removal of damaged parts is an obligatory stage of treatment. If this is not done, the infection can spread and destroy the entire plant.
Another question that worries inexperienced gardeners is whether it is necessary to cover strawberries for the winter. This plant is quite frost-resistant. The root system survives even if the winter temperature drops to -25 degrees Celsius. If you want to give it additional cover, just do not cut off its leaves. It will be enough to protect the plant in winter.
Earlier OBOZREVATEL shared how to properly transplant strawberries in the fall.
Subscribe to OBOZREVATEL channels on Telegram and Viber to be aware of the latest events.