Shakhtar lost victory in the Europa League after an incredible goal by Rakytskyi with his back. Video.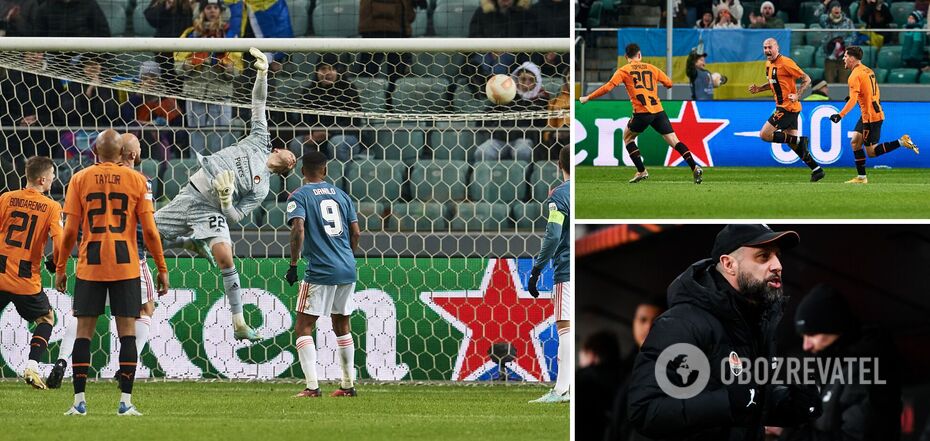 The match took place in Poland
Shakhtar Donetsk drew in the first leg of the UEFA Europa League round of 16 in the 2022/2023 season. The match against Dutch side Feyenoord ended 1-1 at the Wojska Polskiego Stadium in Warsaw
The first five minutes were played at a leisurely pace. The favourites played the ball for a long time in their own half of the pitch, fighting off the Ukrainians' pressure.
"Feyenoord tried to get past the Ukrainian defence with dangerous shots. Gradually, the Dutch advantage became more and more apparent. The game was going on in dangerous proximity to Trubin's goal and the Ukrainian goalkeeper had to enter the game more and more often.
The Ukrainian players occasionally failed to keep up with their opponents and were forced to stop them only by breaking the rules.
Shakhtar needed more movement in the centre of the pitch, but the Orange and Blacks were noticeably inferior to their opponents in this component. Towards the end of the half, the game moved to the central circle, with no obvious threats to the goal.
Feyenoord's left flank was very active, where the Dutch players tried to find their leader Malasia Tyrell. Jovicevic's team also made mistakes.
The Netherlands played with a high line of defence, and in those moments there was a sharp lack of Mykhailo Mudryk, who could break into free space, straining the opposition's defence.
Rotterdam easily entered our penalty area, opening up the defensive zones. The last five minutes before the break turned into an all-out assault by the Rotterdam players.
The second half continued in the same vein, with Shakhtar playing as second-choice, working hard in defence with the whole team. "With each attack, Feyenoord got closer and closer to the goal (2-9 on goal).
It was becoming more and more difficult for the Ukrainian team to contain Feyenoord's attacks, but the visitors lacked luck and accuracy in the final phases. In the 64th minute, Trubin pulled out a dead ball.
Constantly attacking, the visitors conceded a sensational goal in the 79th minute. Yaroslav Rakytskyi scored with an incredible shot, scoring after a corner kick with the lower part of his back.
Unfortunately, Shakhtar were unable to maintain their winning result.
Ezequiel Bullaude, who came on as a substitute in the 86th minute, equalised in the 88th minute.
The return leg will take place a week later, on March 16 in Rotterdam at the Feyenoord Stadium.
Only verified information is available on our Obozrevatel Telegram channel and Viber. Don't fall for fakes!