Trending:
Seedlings will be perfect: which seeds need to be soaked before planting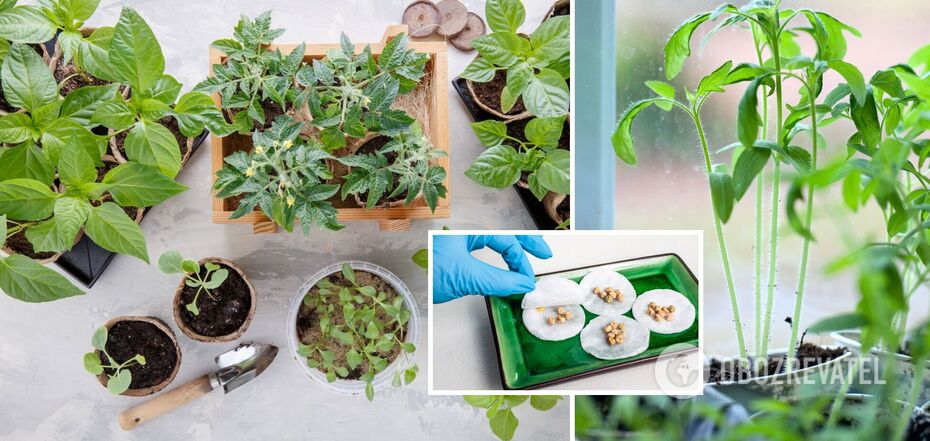 Some seeds should not be soaked
Soon it will be time to sow seeds for seedlings. Depending on the natural conditions and whether you are planting in a greenhouse or in the garden, there are important tips to follow to ensure a bountiful and tasty harvest.
To ensure that the seedlings are perfect, you must first pay attention to the soaking process. Which seeds need to be soaked before planting and which are strictly prohibited, read in the OBOZREVATEL article.
Do you need to soak tomato seeds
Experienced gardeners advise soaking and germinating tomato seeds before planting.
Prepare a special cheesecloth bag, put the seeds in it, and dip them in water. It should not be cold or hot, the optimum temperature is +20+25 °C. Do not keep the seeds in the water for too long. If you soak the seeds for more than 12 hours, they will spoil. Do not forget to change the water - it should be done at intervals of 4 hours.
To help the seeds hatch faster before planting, it is also recommended to soak them. Put cheesecloth in a shallow plate and pour the seeds on top. You don't need to add water, but the cheesecloth should be moist. Keep the seeds on the damp gauze until they wake up.
How to soak peppers
To soak peppers, you need to take warmer water, at a temperature of +40 °C. This is because pepper seeds have a harder shell.
To soak peppercorns, you will need a thermos. Wrap the seeds in cheesecloth and put the bag in the thermos. Be sure to tie a knot so that the seeds do not scatter. Leave it in the thermos for about 12 hours.
There is no need to remove the seeds from the bag to dry them. After waiting for the bulk of the water to drain, place it on a piece of paper and the piece of paper on the battery. Do this carefully so that the seeds do not dry out. Once the seeds are dry, you can start sowing seedlings.
How to soak carrots, parsley and celery
Wrap the seeds in a linen bag and keep it under a stream of water at a temperature of +50+60 °C. Twenty minutes will be enough.
Then keep the seeds wrapped in a damp cloth for another 2-3 days. They should swell. After drying, you can sow them in the ground.
Should you soak legumes
Experts do not recommend soaking beans, peas and beans of early planting. But later varieties can be.
After soaking the seeds in water, keep them in a damp towel for 2-3 days. You can plant them as soon as you see sprouts.
Life hacks for soaking zucchini, cucumbers and pumpkin
Take a shallow plate and a piece of cloth. Fold the cloth in half, placing the seeds in the middle and moistening the bottom part generously. The cloth should always be moist so that the seeds swell well.
Wait about a week for the seeds to start germinating.
Which seeds should never be soaked
According to experts, you should not soak
cabbage
lettuce
rutabagas.
These crops should be sown dry.
Earlier, OBOZREVATEL told what to sprinkle on the ground before planting vegetables to get a rich harvest.
Subscribe to OBOZREVATEL's Telegram and Viber channels to keep up with the latest news.