Trending:
Scotland's top 10 destinations to visit this summer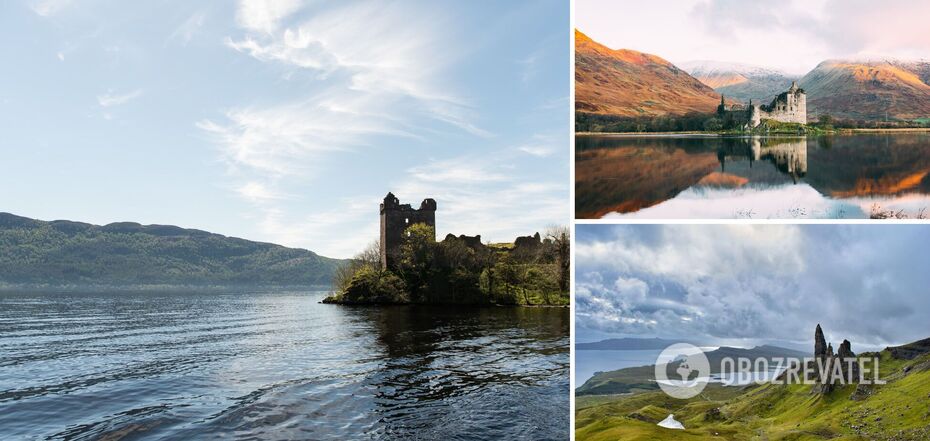 What to see in Scotland
Incredible views, endless valleys, deep lakes and the sound of bagpipes. This is the picture that comes to mind when you think of Scotland, the northernmost country in Britain. Much of it is occupied by the Cairngorms mountain range, but that's not the only thing to see in this magical region.
Edinburgh
Start with the capital of Scotland, the ancient city of Edinburgh. To appreciate it in all its glory, you need to climb to the top of the extinct volcano Arthur Seat. It is from this point you can enjoy an unparalleled view of the city.
No less impressive will be visiting museums, of which there are many. Their innovation is talked about far beyond the country's borders.
Edinburgh is also home to dozens of different events. The most interesting time is August, when thousands of tourists from all over the world come here to taste local delicacies at the food festival, watch dramatic theater performances, attend concerts and enjoy a craft beer in one of the capital's pubs.
West Highland Way
One of the longest hiking trails in the country (and in Europe) stretches 86 miles among mountains, lakes, and forests. Hundreds of people hike it every day to enjoy the local nature and take a break from the bustling city. In total, the hike can last up to 7 days.
Don't be in a hurry to turn down a hike in this area if you're not ready to spend a whole week on it. No one is forcing you to go all the way, you can at any time go back and rest in a hotel in one of the nearby communities.
Isle of Skye
This is probably one of Scotland's most popular tourist destinations. Not only do people come here for the beautiful scenery, with a lot of perfect photos to take, but also for the atmosphere of the place. It is always quiet and peaceful, and the restaurants serve delicious seafood dishes.
Most tourists stay in Portree, Dunvegan, and Trotterny. But you can also choose a more remote town for your vacation.
St. Andrews
It is no secret that golf was invented in Scotland. St. Andrews is the capital of the game, its "spiritual" center. It is here that people come to enjoy the best golf courses in the world.
If you're not a fan of the sport, take a tour of the medieval ruins, visit the city's oldest university and enjoy the delicacies in one of its restaurants.
Stirling
This small town also has something to surprise you. Its history dates back to the Stone Age. Until now, no one knows where such an interesting name of the settlement came from. But many have heard about the local pride - almost impregnable fortress, which unsuccessfully tried to storm very many times.
Glasgow
The city of Glasgow, Scotland's largest city, is definitely worth a visit for lovers of live music and warm atmosphere. It may not be as posh as Edinburgh, but there's always something to do here. You might not be as glamorous as Edinburgh, but there's always something to do here - think local museums and art spaces.
It's also home to one of Britain's best music pubs, Barrowland. Mostly old school rock is played here. And they serve delicious drinks and food too.
Loch Lomond
Do not confuse it with Loch Ness, they are different lakes. The beauty of this body of water has been extolled even in literature, because the views here are truly incredible. And then there are the islands, which were artificially created back in the Middle Ages (yes, without modern technical capabilities, practically by hand).
One shore of the lake is surrounded by tall trees of the national park, while the other is surrounded by towering mountains. So it's worth coming here at least for the scenery.
Loch Ness
Here we have reached the most mysterious, mysterious, and famous lake in Scotland. It is here that the monster, which has been scaring locals and tourists for years, lives. At least, that's what they write on social media. It is quite possible that this is just a way to attract more foreigners here. Or maybe not, who knows.
Borders
This region is almost never visited by tourists, and for good reason. It reveals the soul of Scotland with its sincere people, beautiful nature, many myths and legends. It's home to some of the country's best cycling trails, with many small farms, ruins of ancient abbeys, and gorgeous country houses where Catholic clergy once hid in secret rooms.
Perthshire
Another amazing town with extraordinary nature. People come here to observe birds and animals, of which there are many, in silence. So, if you dream to reboot and be in the midst of pristine beauty, you should choose this destination to explore Scotland.
Earlier OBOZREVATEL told about the most beautiful destinations in Europe for car tours.
Only verified information in our Telegram channel Obozrevatel and in Viber. Do not be fooled by fakes!