Trending:
Scientists have shown the face of a 16-year-old girl who lived more than a thousand years ago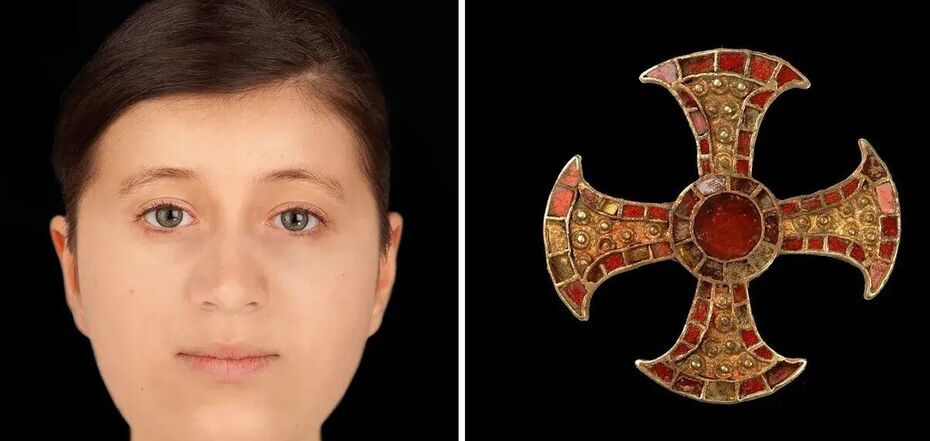 The girl's face and the cross that adorned the bed in which she was buried. Source: Scientists at Cambridge University reproduced the face of a girl
We know what clothes and tools looked like in different historical times. But it is difficult to imagine what the appearance of people who lived long before us was like in reality, not in pictures.
Researchers at Cambridge University have been able to reproduce the face of a 16-year-old girl thanks to her skull. Also, by analyzing the remains of her bones, the scientists found that she immigrated to England from Central Europe (to see the photo, scroll to the end of the news).
Much effort was made to reproduce the girl's facial features. A team of forensic artists, bioarchaeologists and archaeologists carefully studied every piece of her body found.
Unfortunately, without DNA analysis, scientists aren't sure what color eyes and hair the girl had, but the images give an idea of what she was like a few months before she died.
"It was interesting to see how her face developed. Her left eye was a little lower, about half an inch than her right eye. That would have been quite noticeable when she was alive," said forensic artist Gue Morrison.
Also, interesting facts emerged after isotope analysis of the bones. It turned out that after seven years, she probably came to England from under the Alps, possibly from southern Germany.
After the move, her food intake decreased significantly. Scientists believe that the change in diet occurred shortly before her death.
"She was quite a young girl when she moved, probably from southern Germany, near the Alps, to a very flat part of England. She was probably very unhealthy and had traveled a long way to a completely unfamiliar place-even the food was different. It was probably scary," noted bioarchaeologist Dr. Sam Leggett.
The girl was buried in fine clothing, and gold studs were found near her. The burial ceremony was conducted according to the "unique tradition of burial in a bed," and her headboard was decorated with a pomegranate cross.
According to the researchers, only 18 such burials have been found in Britain.
All this indicates that the girl probably belonged to aristocratic society and was one of the first to convert to Christianity in England in the 7th century.
"Consequently, it seems that she was part of an elite group of women who probably came from mainland Europe, most likely from Germany, in the 7th century, but little is known about them. Were they political brides, or perhaps brides of Christ? The fact that her diet changed after she arrived in England suggests that her lifestyle may have changed quite significantly," Dr. Leggett added.
The reconstructed image, along with other artifacts, will be on display at the Cambridge Museum of Archaeology and Anthropology.
Earlier OBOZREVATEL told how scientists reproduced the face of a 17-year-old girl who lived on Earth 31 thousand years ago.
Subscribe to OBOZREVATEL channels in Telegram and Viber to keep up with the latest developments.