Trending:
Scientists "caught" a galaxy that had been hiding for 11 billion years: what is the secret of the invisible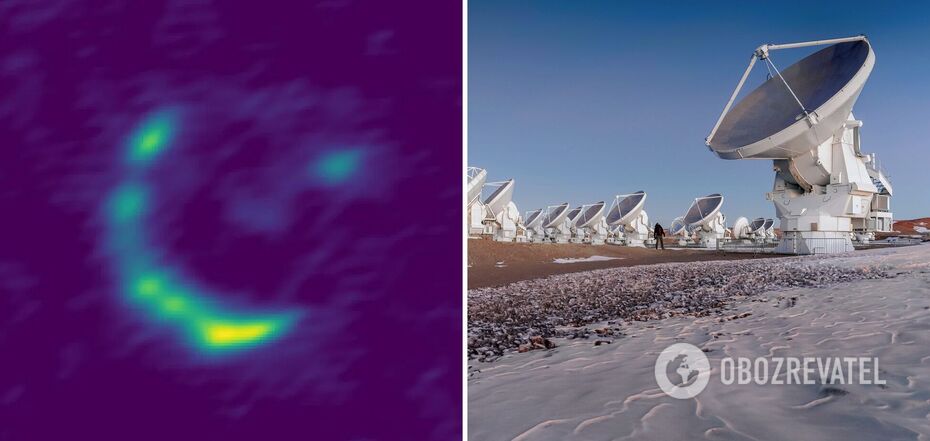 The object was discovered and photographed by the ALMA Observatory in Chile
The next time you get frustrated because you can't find something at home, remember that astronomers have long been unable to find an entire galaxy in the Universe. This discovery was reported by an Italian research team led by astrophysics doctoral student Marika Giulietti.
According to CNet, the team from the Scuola Internazionale Superiore di Studi Avanzati (SISSA) called the galaxy a "mysterious and very distant object", "so dark that it is almost invisible even to very sophisticated instruments". Astrophysicists have not been able to spot it, despite the fact that the galaxy has existed for almost 12 billion years. The discovery was made with the help of the modern Atacama Large Millimeter/submillimeter Array (ALMA) telescope in Chile and the gravitational lensing method. This method uses huge cosmic objects, such as galaxies or their clusters, as cosmic lenses. They distort the light from objects behind them. This makes these "background" objects appear larger and brighter, and therefore more visible.
This is how scientists have finally confirmed the existence of a galaxy that was formed just 2 billion years after the Big Bang, which scientists estimate to have occurred about 13.8 billion years ago. It is a heavy object filled with cosmic dust and gas. "Our analysis showed that this object is very compact, probably young, and is forming stars at an extremely high rate," said Giulietti.
As the scientists explained, the galaxy had not been noticed before for several reasons. First, it is located very far from the Earth. Second, it is small in size. Thirdly, interstellar dust makes it difficult to see, as it prevents the light from the galaxy from spreading in outer space.
In the future, such objects are planned to be studied using the James Webb Space Telescope. Its equipment is able to ignore even a thick veil of dust, as it operates in the infrared range. This makes it possible to look even into very remote corners of the Universe. So far, it has not yet recorded the galaxy discovered by the Italian team. But Giulietti expressed hope that in the future, the space telescope "will tell us much more about this galaxy than only it can do now."
Earlier, OBOZREVATEL told about the first photos of the "green comet" that flew to Earth for 50 thousand years.
Subscribe to OBOZREVATEL's Telegram and Viber channels to keep up with the latest news.