Trending:
SBU detains Kremlin agent who was "hunting" for Ukrainian aviation in the Dnipro region. Photo.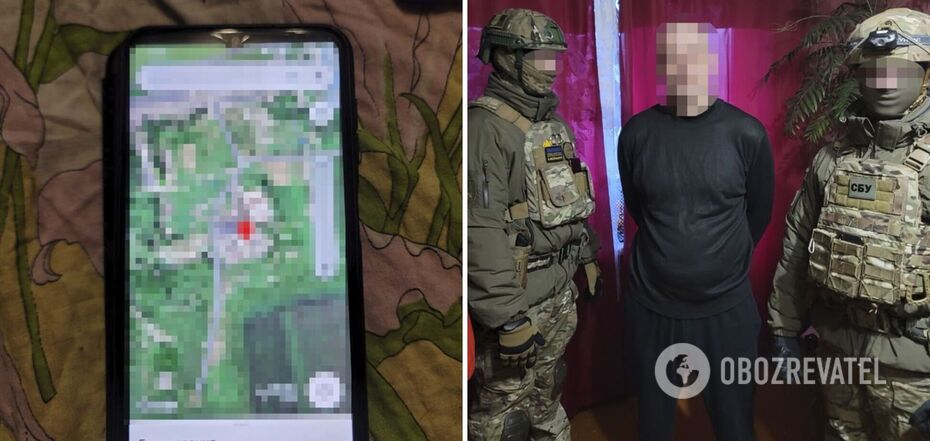 The traitor collected intelligence on the locations and movements of Ukrainian troops
During a special operation in the Dnipro region, the SBU counterintelligence detained an agent of the Main Directorate of the General Staff of the Armed Forces of the Russian Federation (known as the GRU). The man was collecting intelligence on the locations and movements of Ukrainian military in the region.
This was reported in the official SBU Telegram channel. According to the special service, the enemy was most interested in information about the location and mode of operation of Ukrainian military aircraft, the regularity of their flights and their number.
The offender also passed on information to Russia's special services about the consequences of enemy air attacks on the city. The occupiers were to use this data to prepare and carry out massive air strikes on the territory of the region.
The SBU in the Dnipro region established that the Russian agent was a local resident. He was involved in covert cooperation with the military intelligence of the Russian Federation through one of the pro-Russian telegram channels.
There, the traitor actively distributed his posts in support of the occupiers, and also sent the information to the aggressor's special services via messenger in the form of electronic coordinates and media files that were tied to a specific location.
During the search, the SBU found the man's phone, which he used to cooperate with the enemy.
Taking into account the evidence, the SBU served him a notice of suspicion under Article 111 (2) of the Criminal Code of Ukraine and Article 114-2 (2) of the Criminal Code of Ukraine on dissemination of information about the actions of the military.
The court imposed on the traitor a measure of restraint in the form of detention. The pre-trial investigation into all the circumstances of the crime is ongoing.
As OBOZREVATEL previously reported, a traitor who was collecting information about a military airfield for Russia was detained in the Kirovohrad region.
Earlier, the SBU said it had detained a Russian agent who was "hunting" for ammunition depots near Avdiivka. Law enforcers were proactive - they exposed and detained the traitor in time.