Trending:
Russia boosts missile production despite sanctions: NYT reveals details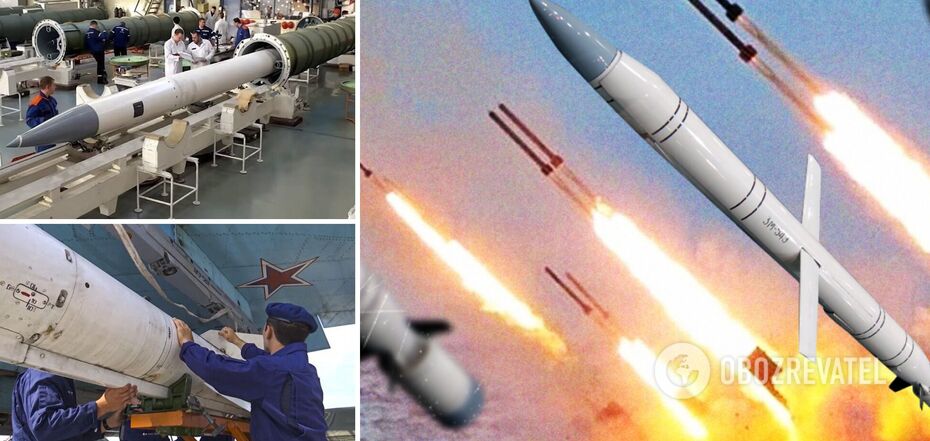 Russia was able to circumvent sanctions and is ramping up missile production
Russia has been able to ramp up missile production despite Western-imposed sanctions and export controls. Russian missile production has now exceeded pre-war levels.
As a consequence, Ukraine may face increased missile attacks from Russia in the coming months. Details are reported by The New York Times.
The publication quoted US, European and Ukrainian officials as saying that Russia has managed to overcome sanctions and export controls imposed by the West. Production volumes now exceed pre-war levels. This means that in the coming months, the Russian Federation is capable of stepping up missile attacks on Ukraine.
NYT writes that along with providing military aid to Ukraine, the U.S. has staked on weakening Russia's military power by limiting Russia's military supplies. And at first, this strategy worked. In the first six months of full-scale aggression against Ukraine, Russia was forced to sharply slow down the production of missiles and other weapons.
However, by the end of 2022, Russia's military-industrial complex began to gain momentum. And now even U.S. officials recognize this.
Moscow was able to overcome the export controls imposed by the United States with the help of its intelligence services and the Defense Ministry, which created smuggling schemes to smuggle key components needed for missile production through third countries. Thus, less than a year after the full-scale invasion began, Russia was in full swing purchasing critical components through Armenia and Turkey. And the joint efforts of U.S. and EU regulators were unable to either stop or restrict shipments through countries associated with Russia.
Now, ahead of winter, Ukraine's Western partners fear Moscow's continued strikes on Ukrainian critical infrastructure.
"Russia's resumption of military production is particularly worrisome because Moscow has used artillery to shell Ukrainian soldiers on the front lines and its missiles to attack power grids and other critical infrastructure, as well as to terrorize civilians in cities. Officials fear that the increased missile stockpile could mean a particularly dark and cold winter for Ukraine's citizens," the publication writes.
U.S. efforts are now focused on helping Ukraine defend itself against Russian attacks. The Pentagon has already transferred Patriot systems to Ukraine and facilitated the transfer of ammunition for S-300 air defense systems by allies to Ukraine. The U.S. has also provided other air defenses, such as the Avenger and Hawk systems.
However, Ukraine's existing air defense systems are critically insufficient to protect the entire country. Therefore, Kyiv has to choose objects that need priority defense.
At the same time, Kyiv has already said that increased rocket attacks could crush the country's air defense.
To limit Russia's ability to replenish its missile stockpiles, the international community gathered in Washington in October 2022. At that time, they discussed restrictions on supplies to Russia of microchips, circuit boards, computer processors and other components necessary for the production of high-precision weapons. Also under the restrictions were supplies of components for diesel engines, helicopters and tanks.
However, Russia managed to circumvent the bans and restrictions. The aggressor state has restructured the economy by prioritizing the military-industrial complex.
"Thanks to revenues from high energy prices, Russian intelligence services and the Defense Ministry were able to smuggle in microelectronics and other Western materials needed for cruise missiles and other precision weapons. As a result, military production has not only recovered, but has increased dramatically," the publication writes.
According to calculations by Western officials, the NYT notes, if before the full-scale invasion of Ukraine Russia could produce up to 100 tanks a year, now they produce about 200. Western countries have also failed to prevent the increase in the production of artillery shells: according to Western intelligence services, Russia is now approaching the production of two million such shells per year. This is twice as much as Western intelligence had predicted.
"Russia now produces more ammunition than the United States and Europe. Overall, Kusti Salm, chief of staff of the Estonian Ministry of Defense, estimates that current ammunition production in Russia is seven times that of the West. Production costs in Russia are also much lower than in the West, in part because Moscow sacrifices safety and quality in its efforts to develop cheaper weapons, Salm said. For example, it costs the Western country $5,000 to $6,000 to produce a 155-millimeter artillery shell, while it costs Russia about $600 to produce a comparable 152-millimeter artillery shell," the publication wrote.
At the same time, Moscow has not managed to accumulate large stocks of missiles in warehouses, although some types of missiles (for example, air-launched cruise missiles Kh-55) are now more than. according to intelligence reports, was at the beginning of the invasion.
"In some areas, they have been able to ramp up production significantly," said Dmitri Alperovitch, an international security expert and chairman of the Silverado Policy Accelerator, a Washington think tank.
He explained why, presumably, export controls could not prevent Russian Federation from producing the missiles. The fact is that the chips needed to produce a couple hundred missiles can easily fit into a few backpacks. Therefore, by not buying millions of chips at a time, Russia manages to circumvent the bans with relative ease.
Russia supplies the components needed for missile production through third countries.
"As the controls had a real impact, the Russian government didn't just throw up their hands and say, 'You got us, we give up.' They became more and more resourceful in their evasion attempts. And we've been really active in working on different ways of suppression," said Matthew Axelrod, the U.S. Commerce Department's export control officer.
Currently, the U.S. and the European Union have a joint list of 38 different categories of goods whose exports to Russia are restricted. U.S. officials said nine of the 38, mostly microelectronics used in missiles and drones, are the highest priority for blocking.
"U.S. and European officials are working with banks to develop an alert system that would alert governments to possible sanctions violations. So far, U.S. banks have notified the U.S. government of 400 suspicious transactions. The Commerce Department has managed to use a third of these suspicious activity reports in its investigations," the publication writes.
On August 31, for example, the Department of Commerce accused three individuals of participating in an illegal Russian procurement network. One of the three, Artur Petrov, a Russian-German citizen, was arrested and charged by the Department of Justice with export control violations.
Petrov is accused of purchasing microelectronics from U.S. exporters with the intent to ship them to Cyprus, Latvia, or Tajikistan. From there, the U.S. assumes, the components would eventually be shipped to Russia through other companies.
That said, another problem is that what Russia needs is not higher-end chips that are easier to track, but commercial chips that can be used for a variety of purposes, not just guided missiles.
"This makes our job more difficult because there are many countries that are allowed and perfectly fine to sell these chips for legitimate commercial purposes. The problem is that these chips are then diverted and sent to Russia," Axelrod said.
At the same time, the publication said, citing U.S. and European officials, Russia has failed to produce enough ammunition and equipment to make up for the consumption and losses. For example, just approaching the production of two million artillery shells per year, during the same period, Russia consumes over ten million shells. This is why the Kremlin has had to feverishly seek help from its few allies, in particular trying to strike a deal with North Korea.
"While Moscow has been successful in smuggling processors and circuit boards, it faces shortages of rocket fuel and basic explosives, U.S. officials said - material that is harder to smuggle than circuit boards. That shortage is likely to deter Moscow if it tries to ramp up further production of munitions, missiles or bombs," the NYT predicted.
At the same time, the military production buildup has been a blow to the Russian economy.
" The sanctions have hurt the overall health of the Russian economy, and overcoming Western export bans has come at a cost, U.S. and Western officials said. A senior Western defense official said Russia has reallocated nearly a third of its commercial economy to arms production. The country is facing a labor shortage, which could make it difficult to achieve further industrial successes," the publication wrote.
At the same time, Ukrainian and Western officials predict that after the relative summer "lull" with the arrival of cold weather, the Russian Federation will almost certainly resume terrorist strikes on Ukraine's energy infrastructure. According to the Kremlin, this could deprive Ukrainians of the will to resist aggression.
The U.S., meanwhile, is working on a steady supply of air defense ammunition and improving Ukraine's air defense system to minimize the effects of a likely Russian missile terror attack.
"The Ukrainians have gotten better at protecting their infrastructure and strengthening defenses around their power plants and critical energy networks. They have become better at handling repairs and making sure that the consequences of power outages and other utility disruptions are not as severe," according to the Estonian Defense Ministry's chief of staff.
Recall, earlier it became known that Russia buys sanctioned parts for airplanes through the UAE, China and Turkey.
Boeing and Airbus form the basis of the Russian aircraft fleet. Therefore, the Russian Federation has resorted to so-called parallel imports. This is evidenced by customs data from March 2022 to March 2023.
According to the documents, during this period the country imported original spare parts for Boeing and Airbus for at least 18 billion rubles.
Only verified information from us in Telegram-channel Obozrevatel and Viber . Do not fall for fakes!