Trending:
Ranking of the most reliable new cars of 2023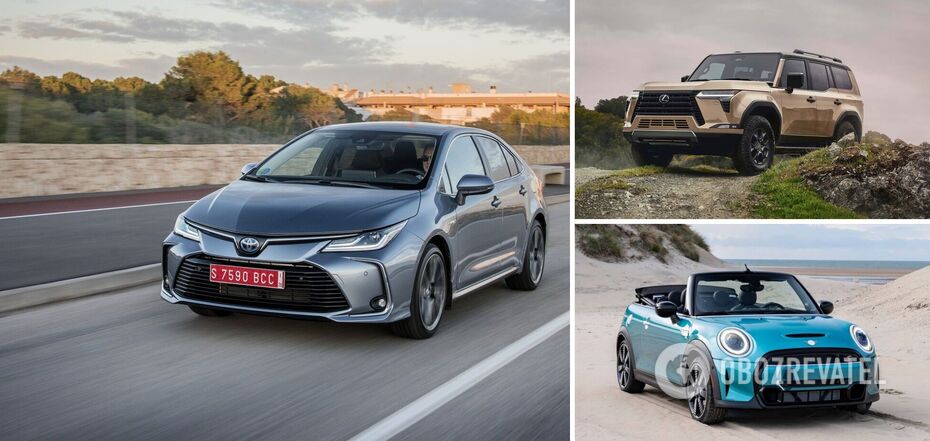 Reliable cars
Reliability is the main aspect that drivers pay attention to when choosing a car. Auto experts have compiled an updated ranking of the best vehicles with the ideal value for money.
After collecting data on 300,000 autos from 2000 to 2023, a team of engineers, journalists, researchers and scientists at Consumer Reports has published its annual car reliability study. The details were revealed by Finance Yahoo.
To compile the rankings, Consumer Reports used data from at least two model years to calculate an estimated reliability score on a scale of 1 to 100. Both major operational problems (such as repairs to the all-wheel-drive system and out-of-warranty transmission issues) and minor inconveniences were taken into account.
As USA Today notes, hybrid cars, midsize and large sedan models from 2000 through 2022 (as well as a few models from the first half of 2023) topped the rankings.
The 2023 Toyota Corolla Hybrid had the best score. The model came out on top with a reliability score of 93.
Lexus GX has a silver medal in the 2023 Lexus GX. Reliability score of 91.
There are two bronze medalists at once: the 2023 Mini Cooper and the 2022 Toyota Prius with a reliability score of 89.
Next up is the 2022 Mazda MX-5 Miata with a reliability score of 85.
Lincoln Corsair 2023 scored 82 points.
Another Toyota Corolla in 2023 has a reliability score of 81.
Japan's Subaru Crosstrek 2023 BMW 3 Series 2023 BMW 3 Series also showed a high-reliability rating of 80.
Toyota Prius Prime has a reliability score of 77.
Which car brands are the most reliable
Toyota tops the list of most reliable brands, having all but two models with reliability scores above or well above average. Lexus is the only car brand with all of its models scoring above-average reliability this year. Toyota has more models and that affects the overall brand score.
Here is a list of the most reliable car brands or companies (CR did not include Alfa Romeo, Chrysler, Dodger, Fiat, Infiniti, Jaguar, Land Rover, Maserati, Mini, Mitsubishi, Polestar, Porsche and Rivian due to lack of data or because the manufacturers did not have enough models to test):
Toyota.
Lexus.
BMW.
Mazda.
Honda.
Audi.
Subaru.
Acura.
Kia.
Lincoln.
Buick.
Genesis.
Hyundai.
Volvo.
Nissan.
Ram.
Cadillac.
Ford.
Tesla.
Chevrolet.
GMC.
Volkswagen.
Jeep.
Mercedes-Benz.
Earlier OBOZREVATEL shared the best affordable crossovers that you can buy in 2023.
Subscribe to OBOZREVATEL channels in Telegram and Viber to keep up to date.