Poltava-style varenyky: how to prepare the perfect dough for the dish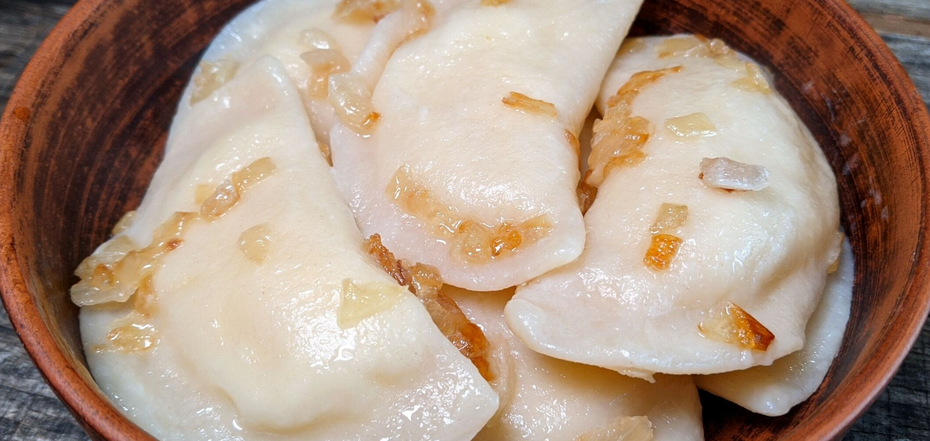 Delicious varenyky
Varenyky is a dish that every Ukrainian loves and knows how to cook. The most important thing in the preparation is to make a successful dough, which determines the taste of the dish. For toppings, you can use both sweet and salty fillings, such as meat, cabbage, mushrooms, and sweet - cottage cheese and berries.
Cook Tetiana shared on Instagram a recipe for Poltava-style varenyky that turn out puffy and soft.
Ingredients:
kefir - 500 ml
flour - 650-700 grams
sugar - 1 tbsp.
salt - 1 tsp.
soda - 0,5 tsp.
fresh yeast
For the filling, you can use potatoes, cabbage, cottage cheese, berries, and by-products.
Method of preparation:
1. Dissolve salt, sugar and yeast in warm kefir.
2. Mix the flour with the baking soda and gradually add to the kefir. Knead a soft dough, it should be soft. Cover the dough and leave for 20 minutes.
3. Then divide the dough into 4 pieces, sprinkle a little flour, and make a sausage from each piece, which should be cut into 8-12 pieces, each piece roll out, put the filling, and form varenyky.
4. Steam varenyky for 5-7 minutes.
5. Transfer the finished varenyky to a bowl, brushed with butter.
Also, you can read these recipes on OBOZREVATEL: