Trending:
Plaque will dissolve before your eyes: how to clean bathroom and kitchen taps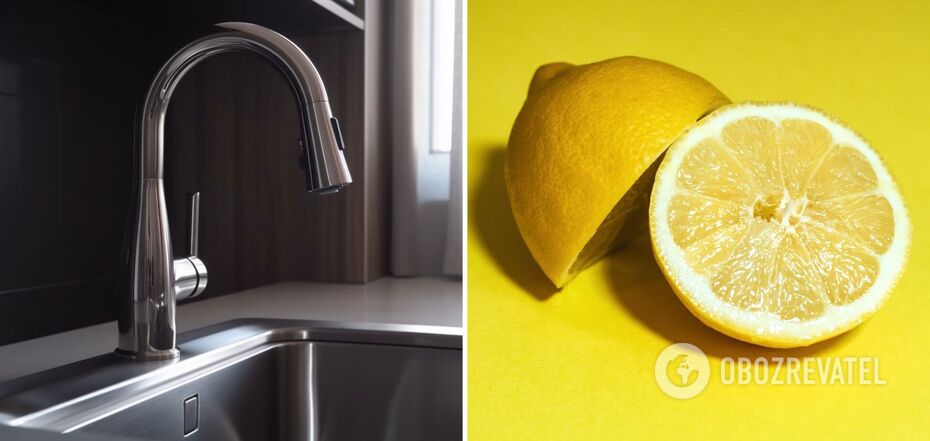 How to get rid of limescale
White limescale on taps is unsightly and can ruin the faucet. Depending on the hardness of the water, limescale can take several weeks or months to develop and cover the taps with unsightly stains.
Chemical descaling agents can damage the protective enamel of some surfaces. But OBOZREVATEL has found effective ways to deal with this.
Toilet or bathroom cleaners will not help remove limescale, but rather damage the faucet, so it is better to use natural products that are available in every home.
Vinegar
Vinegar will effectively clean the tap. Apply a little substance to a clean cloth and wipe the necessary surfaces thoroughly.
If the limescale has covered the faucet with a thick layer, it is better to soak paper towels with vinegar and cover the faucet with them and leave it overnight. In the morning, remove the towels and wipe again with a cloth.
Lemon
Although vinegar is an indispensable cleaning tool, not everyone likes its smell. Therefore, you can use lemon, which will quickly help to cope with this problem.
Dampen a sponge or cloth with lemon juice and wipe the necessary surfaces or mix 40-50 g of citric acid in one litre of warm water. Dampen the cloth and wipe the taps.
Baking soda
Soda is also an effective tool in the fight against stubborn stains. Dissolve 3 teaspoons of the mixture in 100 ml of warm water and mix to form a paste. Use a cloth to apply the mixture to the required areas and leave it on for 2-3 hours. Then rinse off with warm water.
Earlier, OBOZREVATEL talked about cleaning a sewer pipe with two ingredients.
Subscribe to OBOZREVATEL's Telegram, Viber and Threads channels to keep up with the latest developments.