Trending:
Petunias can be pruned: how to take care so that the plant blooms all summer long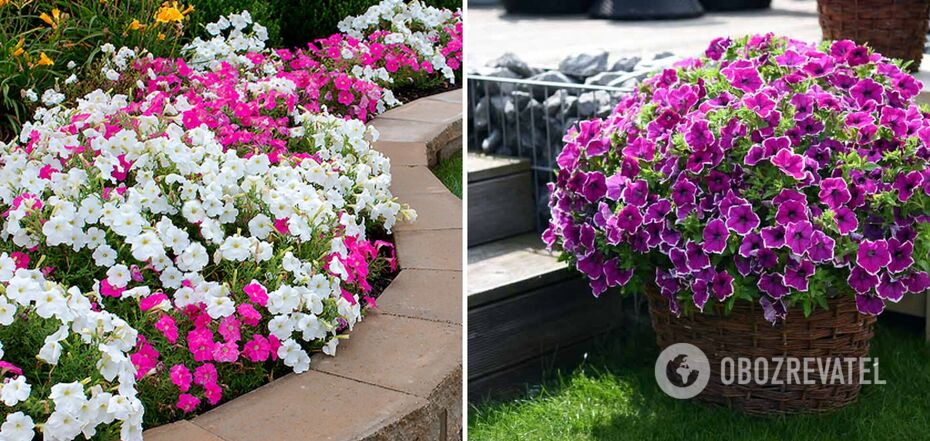 Petunias like warm, sunny weather
Petunia is one of the most popular flowers, it is planted either in flowerbeds or as a hanging plant on the balcony. In general, it is not too fastidious plant, but you should remember the basic rules of cultivation and care.
Petunias love sunlight. The more light and heat the plant receives, the more flowers it will be able to please. OBOZREVATEL has figured out how to trim petunias so that they bloom all summer long.
Low temperatures, drafts, wind and excessive humidity are the main factors that can hinder the growth of petunia. These flowers do not tolerate bad weather. Regarding the soil, the plants are unpretentious, but if the leaves began to turn yellow, experts advise transplanting the flower into special soil for petunias.
A container for petunia should be large and spacious enough. In open beds, flowers can be planted at a distance of 15 cm from each other.
Drainage will help prevent overwatering. The planting hole or vase should be half filled with gravel, pieces of clay or granulate. Fill the rest of the space with soil. Decorative petunias can be planted near bee-friendly vegetable plants and grasses.
It is not necessary to water frequently, but it is worth noting that if the flower is growing in the sun, in hot weather it will have to be watered twice a day. The best way to water a petunia is to use ordinary rainwater and only water the roots, not the leaves or flowers.
Petunias are vulnerable to pests, especially mold and aphids, which appear mainly due to overwatering.
Flowers will bloom all summer if you do the right pruning. There are a few basic rules:
Remove flowered or wilted parts with a special knife or secateurs.
Wilted flowers should not be removed, otherwise the petunia will not give seeds. Seeds, by the way, it is recommended to store in a cool dry place and start germinating in pots already in February.
Petunias can even overwinter, although they are often sold as annuals. Fall pruning will help. Shoots should be about 20 cm long. It is advisable to store the plant in winter in a bright place with a temperature of +5+10 °C.
Earlier OBOZREVATEL told how to help admired petunias to recover and bloom again.
Subscribe to OBOZREVATEL channels in Telegram and Viber to keep up with the latest events.