Trending:
One fertilizer will significantly improve fertility: how to prepare a bed for winter garlic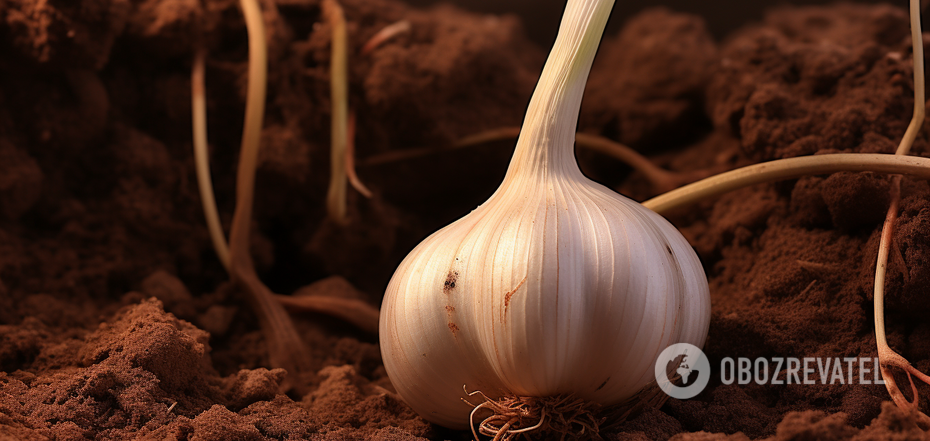 How to grow winter garlic
October is the ideal time to plant winter garlic. Depending on weather conditions, precipitation, and temperature, planting begins in the second week of October and is completed by the end of the month.
Experienced gardeners note that to get a quality harvest, it is important to prepare the garden properly. To know what fertilizer will significantly improve fertility, read the OBOZ.UA article.
How to prepare the garden
Garlic is usually planted for the winter about 35-45 days before the onset of permanent frost. The bed should be prepared in advance by saturating it with organic and mineral fertilizers.
Winter garlic is an unpretentious crop, but given the approaching cold weather, it is worth improving the soil composition. Garlic does not like wetlands, so to prevent water stagnation, you need to choose well-drained and light-textured soil.
If the soil on your site is too heavy, peat and sand will help to remedy the situation. Before digging the beds, you just need to scatter them over the area: the soil will mix with peat and sand and become looser and lighter.
What fertilizers to choose
Peat and sand contribute to soil depletion, so you'll need to fertilize the bed with organic matter after digging.
Organic fertilizers will contribute to the quality growth and development of plants during the growing season. Before planting, add humus or compost to the bed. You will need at least one bucket of fertilizer per 1 square meter.
Fresh humus is too aggressive in composition, so you should use humus or compost left over from previous years.
How to deoxidize the soil
Garlic does not tolerate high acidity, so the soil must also be deoxidized before planting. Lime fertilizers or wood ash are suitable.
If the soil in the garden has a neutral or even alkaline acidity, you can skip this step.
Do you need mineral fertilizers
Mineral fertilizers can be used in small quantities. Experts advise scattering superphosphate on the bed at the rate of 40 g per 1 square meter.
Mineral fertilizers are usually applied during the growing season in spring and in summer of the next season.
Earlier, OBOZ.UA shared what you need to do in the garden before the onset of cold weather, publishing a sowing calendar for November 2023.
Subscribe to OBOZ.UA on Telegram and Viber to keep up with the latest events.