Trending:
On which finger to wear a ring: deciphering the meaning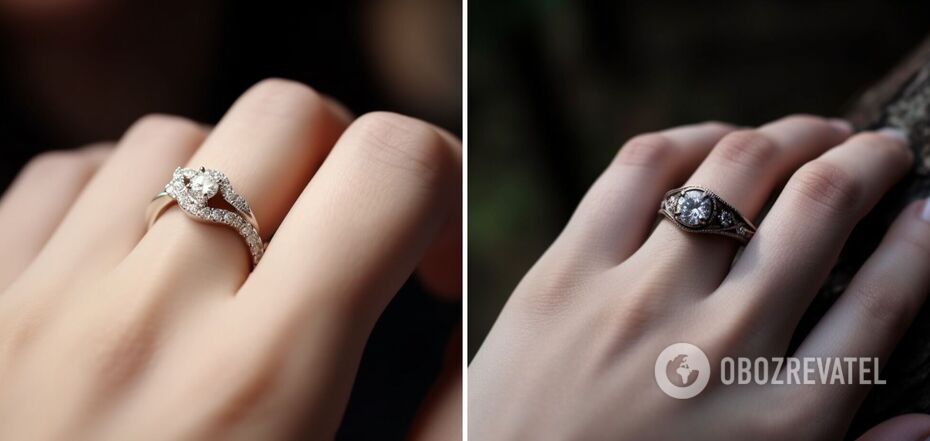 On which finger is it better to wear a ring
There are many folk signs and superstitions associated with rings. Few people know that wearing a ring on each finger has its own meaning.
A ring on the thumb has long been a symbol of strength and power. And wedding and engagement rings are worn on the ring finger as symbols of loyalty and love. OBOZREVATEL has deciphered the meaning of folk signs about rings on different fingers. Of course, they may differ from culture to culture, so don't take them too seriously.
Thumb
A ring on the thumb means that its wearer strives for power, recognition, and independence. He wants to show everyone his strength, authority and specialness. People consider a ring on the thumb as a symbol of leadership, strong will, perseverance, determination, and perseverance.
The index finger
Ambitious, hardworking and confident people like to wear rings on their index finger. This accessory can indicate a desire for control and fame.
Middle finger
It has long been believed that rings are worn on the middle finger by practical, reliable, faithful and responsible people. The accessory on the middle finger is associated with stability, harmony in life and balance in business.
Ring finger
Since ancient times, wedding and engagement rings have been worn on the ring finger. In some cultures, there is a romantic superstition that a vein connected to the heart runs from the ring finger of the left hand. Therefore, a ring on this finger is a symbol of love, loyalty and family relationships.
Little finger
According to legend, a pinky ring can bring wealth and fame to its owner. This accessory is a symbol of success and hard work. Also, sociable and creative people like to wear pinky rings.
Previously, OBOZREVATEL told why you should not wear someone else's ring: what to do if you found a lost piece of jewelry.
Subscribe to OBOZREVATEL's Telegram and Viber channels to keep up with the latest news.