Trending:
"Ominous copy": RosTv openly compares Putin to Nicholas I, who lost the Crimean War and died mysteriously. Video.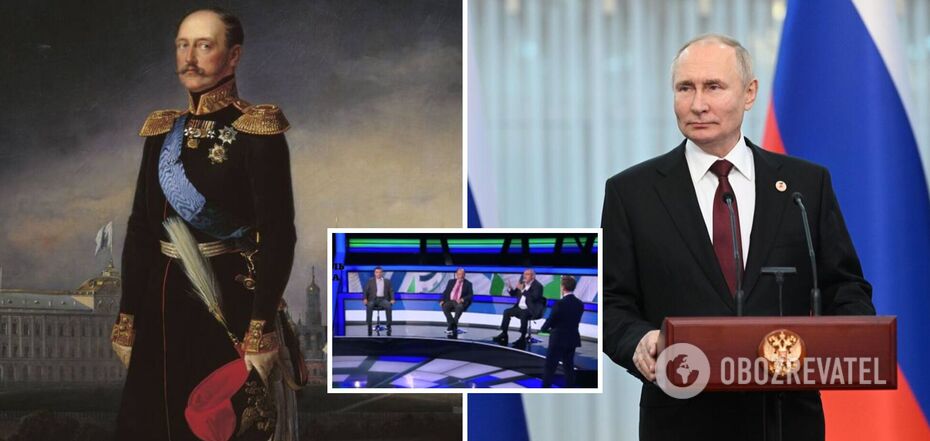 The propagandists are starting to "fall apart"
On a propaganda TV show on the federal NTV channel, a guest expert made an unflattering observation about dictator Vladimir Putin. He consistently observed and compared the Kremlin's recent decisions and concluded that the Russian president is remarkably similar to Tsar Nicholas I.
The episode with the historian's speech is being shared on Russian Telegram channels. This kind of rhetoric from propagandists - loyal dogs of the regime - cannot but arouse an alarming interest among Russian citizens (to watch the video, scroll to the end).
"I just realise that this is an ominous copy of the reign of Nicholas I. It's just a terrible series of coincidences," exclaims the studio guest.
He cited the accidental rise of Nicholas to power as an example, and Putin's victory in the 2000 elections was almost as unbelievable. Also, the cult of the Russian victory over Napoleon's army in 1812 can be compared to the "victory mania" of 1945.
"It all ended with this. Nicholas I, believing that since we had defeated everyone then, it meant that we would defeat everyone here, pursued an anti-European course and, you won't believe it, started the Crimean War. Then Russia was left alone against the whole of Europe, and even the Ottoman Empire. You know the result, right?" - the expert addressed the stunned audience.
Earlier, OBOZREVATEL reported that Andriy Norkin refused to comment on the withdrawal of Russian troops from the right bank of the Kherson region on air. He explained that any of the explanations could lead to imprisonment, and he did not want to "sit" at all.
And in the studio of the disgraced Solovyov, a debate was held about who actually liberated Berlin from the Nazis in 1945. The Russian Federation is very proud of the coalition's victory in World War II, but cannot understand what has prevented them from taking control of Ukrainian Bakhmut for almost a year now.
Only verified information is available in our Obozrevatel Telegram channel and Viber. Do not fall for fakes!