Trending:
Not the climate: scientists discovered the real reason for mammoths to be wiped off the face of the Earth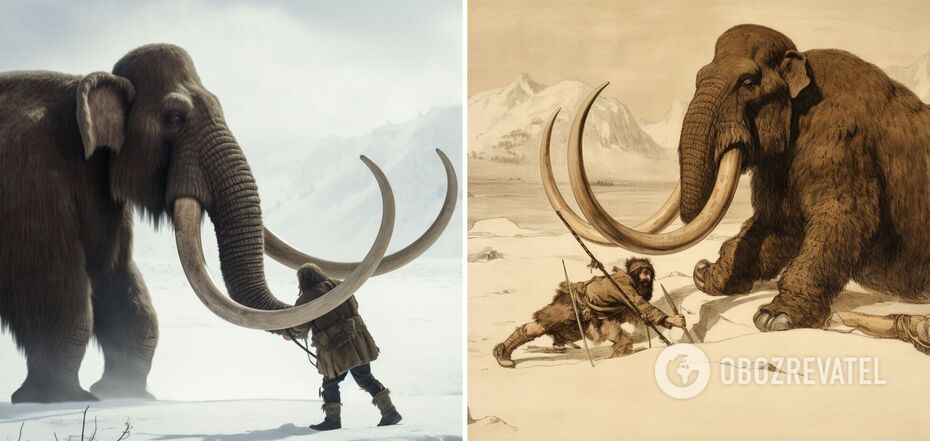 Man probably had a much greater influence on the extinction of mammoths than climate change
Humans, not climate change, were most likely the main reason why large animals such as mammoths and cave bears perished in the territory of ancient Europe. Without humans, they could have existed on the same territory to this day in even greater numbers.
This is revealed in a study published in the BioRxiv journal. In their work, scientists used computer simulations based on fossil and climate data to assess the impact of Homo sapiens on megafauna.
Most of the really big animals died in the last 50,000 years, with extinctions often coinciding with the emergence of modern humans. However, it is traditionally thought that the cause of their death was climate change during or after the last glacial maximum, which occurred about 30,000 to 10,000 years ago.
Therefore, Marco Davoli of Aarhus University in Denmark and his colleagues tried to find out what Europe's ecosystems would have been like if modern humans had not appeared on the scene.
The researchers used a combination of computer modeling and records of fossil finds and past climate to figure out the most likely distribution of nearly 50 large animals in Europe during the previous interglacial period, about 130,000 to 120,000 years ago, and what it would look like today without human intervention.
Dovoli notes that Neanderthals lived in Europe during the previous interglacial period, but their numbers were so low that they were unlikely to have had much impact on wildlife outside their ranges. However, the emergence of Homo sapiens may explain why most of the megafauna was wiped out.
In doing so, the scientist does not completely rule out the climate factor, admitting that some species may have died out due to climate change, but it cannot explain why so many species went extinct at the same time. Davoli explains that during previous climate changes, most species have experienced transitional periods, and only in the latter case is there a dramatic difference. Thus, this would not have happened without human influence.
As the study shows, the loss of so many megafauna also changed the continent's ecosystem. As Davoli notes, the forests would not have been continuous, but much more scattered, with more glades created by large animals.
"This has been the state of our nature for hundreds of thousands of years or even millions of years. That's a big enough gap that we need to fill with wildlife recovery strategies," he said.
OBOZREVATEL previously told that scientists want to resurrect the mysterious dodo bird, which became extinct hundreds of years ago.
Subscribe to OBOZREVATEL channels in Telegram and Viber to keep up with the latest developments.