Trending:
Not for the pen: what the blue side of the eraser is for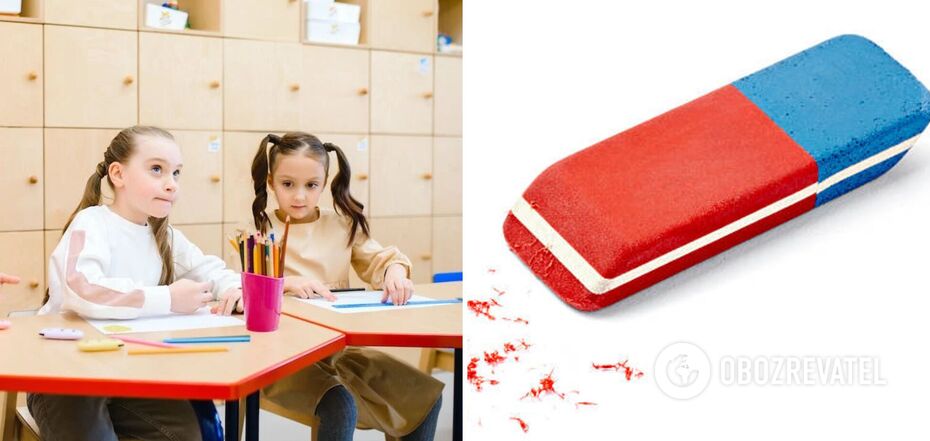 Washing eraser
An eraser is an indispensable item in the pencil case of every school or university student, it can be used to erase a misspelt word or drawing. Usually, the larger half of the eraser is orange and the smaller half is blue.
Many people still believe that the blue side is intended to erase what was written with a ballpoint pen, but this is not the case. OBOZREVATEL looked into this issue in more detail.
The differences between the two halves of the eraser are not only in colour, but also in the fact that the orange side is softer than the blue. This suggests that the softer part can be used to wipe the pencil, as it is easier to remove, and the harder part is intended for erasing the pen.
The blue side can be used to get rid of pen marks, but in most cases, ink stains remain or the paper tears.
In fact, manufacturers created the blue side of the eraser to be used on thick paper. That is, it can be used to remove unwanted marks on grainy paper or cardboard. Such surfaces hold graphite well and can only be removed with the hard side of the eraser.
A ballpoint pen is also one of the important items that needs to be chosen for a schoolchild, so OBOZREVATEL will help you with this.
For younger children who are just learning to write, it is important to develop the correct pen-holding skill. That is why it is recommended that younger students also buy a special attachment for the pen that corrects finger placement.
A good choice would be a handle that has a rubber tip in the grip area. It prevents the instrument from slipping and allows it to fit comfortably in your fingers.
If the school does not have clear requirements for writing utensils, it is better to choose a pen based on the child's preferences. To do this, take it with you to a stationery store.
Earlier, OBOZREVATEL published facts about whether a heavy backpack affects a schoolchild's back and whether it can cause scoliosis.
Subscribe to OBOZREVATEL's Telegram, Viber and Threads channels to keep up with the latest developments.