Trending:
No more bacteria: how to clean a wooden kitchen board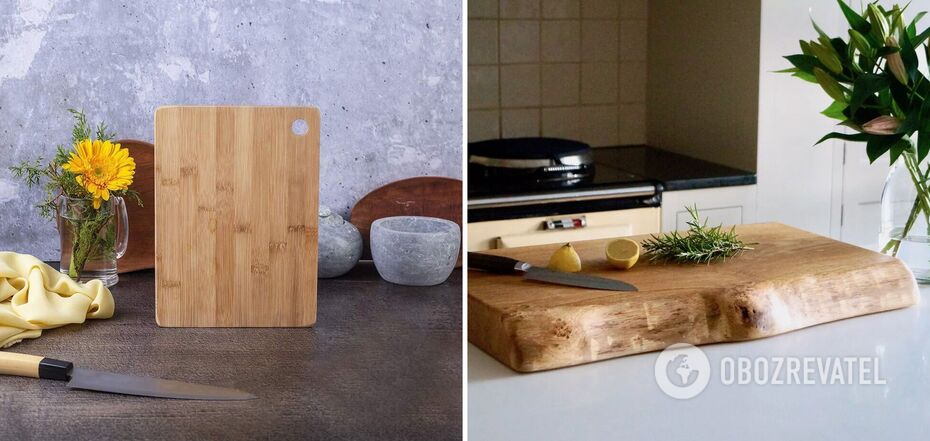 The tree needs thorough cleaning and additional protection
A chopping board is one of the most important tools in the kitchen. We use it for almost every type of cooking. It comes into contact with raw foods, and therefore bacteria and other contaminants can get on it. This problem is especially relevant for wooden boards, one of the most popular types of this tool. Their fibres absorb various dyes and odours and, if not properly maintained, can become a breeding ground for germs.
OBOZREVATEL figured out how to properly care for a wooden cutting board to keep it hygienically clean. These tips will also help you deal with stains and odours and protect the tool from premature deterioration.
Clean the board after each use
This tip may seem obvious, but cleaning it even after slicing bread will help prevent germs from growing in the wood. First, shake off all crumbs and residue from the board, and then wash it with hot water and soap using a brush that will help penetrate the micro-cavities and clean them.
Be sure to let the board dry completely. This is very important for any wooden objects. Simply place it on an edge or hang it on a hook to air dry.
Avoid washing the wooden board in the dishwasher. This can damage the wood and deform the object.
Disinfect regularly
If you want to disinfect the board further, it is best to use natural antibacterial solutions. Affordable and environmentally friendly white vinegar is a good choice. Simply mix equal parts vinegar and water, pour into a spray bottle and cover the board with this solution. Give it a few minutes to work, then rinse the board thoroughly with hot water to rinse off every drop of vinegar.
Use salt and lemon to get rid of stains and odours
Wood easily absorbs coloured liquids, like beetroot juice, as well as odours, like garlic. And it is not always possible to clean such stains immediately. To deal with the problem, sprinkle the board generously with table salt and then rub the surface using half a lemon as a brush. The acid of the lemon combined with the abrasive salt will break down any stains or odours that have become embedded in the wood fibres. After the treatment, leave the board for 20 minutes to allow the lemon juice to work better, then rinse and dry it.
Protect the board with oil
Once a month, it's a good idea to treat your board with a protective oil. Oil is best for this - it penetrates the wood fibres, creates a barrier that protects the object from moisture, and helps prevent the spread of bacteria. You can use ordinary vegetable oil, or you can take a special one for kitchen boards. A few drops of the product are applied in a thin layer to all surfaces, even the side ones, rubbed in and left for a while to penetrate deeper into the wood. The best time is overnight. Before using the board, you will only need to remove the remnants of the product from its surface with a soft cloth or paper towel. Do not wash the object separately after treatment.
Earlier, OBOZREVATEL told how to get rid of the smell of burnt food in the microwave.
Subscribe to OBOZREVATEL's Telegram and Viber channels to keep up with the latest news.