Trending:
Never keep these things in the kitchen: 5 items to throw away immediately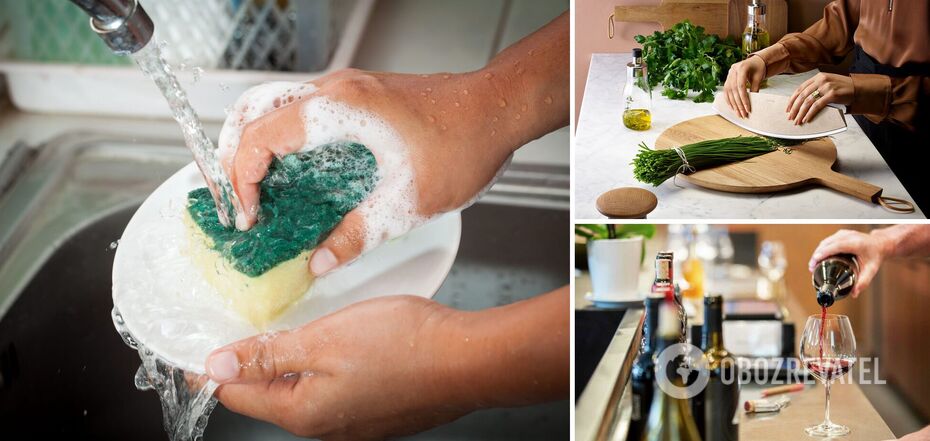 Some items and products in the kitchen can be dangerous over time
The kitchen is one of the dirtiest rooms in the house. High humidity, the constant presence of food, especially meat or milk, all contribute to the growth of bacteria and encourage you to make efforts to keep it clean. Regular replacement or elimination of certain items can help.
OBOZREVATEL talks about five such things. If used incorrectly, they can become sources of infection and other troubles.
Dish sponge
Due to its porous structure, this item not only creates foam well, but also accumulates food debris, fungal spores, bacteria, and viruses inside. And the fact that it is almost always wet only encourages their growth. That's why it's best to change the sponge at least once every two weeks.
Food cutting board
Even plastic boards can accumulate food residues and microorganisms. Especially in the micro-cuts that occur during their use. Superficially, this problem can be solved by periodically treating the board with boiling water, which will help disinfect it. But still, this item needs to be replaced about once every six months. It's also better to get rid of the board if it has lost its shape or has a foreign smell. Experts also advise keeping several boards at home for different foods separately - meat, bread, fish, vegetables, etc. This way, they will last longer.
Damaged cookware
For the same reason, you need to get rid of damaged cookware. Cracks, small chips and cuts harbour bacteria that are difficult to clean out of these depressions. It is better to buy a new cup or plate than to put yourself in danger.
Expired spices
In addition to the fact that spices that have expired lose their flavour, the aromatic substances in their composition can acquire undesirable qualities. Therefore, it is better not to keep expired sachets and jars.
Opened wine
Under the influence of air, the noble drink oxidises - it loses its taste and aroma, its colour changes to a duller one and it tastes like rotten apples. All this means that you can no longer consume such a liquid. Many factors affect how long wine can be stored uncorked, but the average figures are as follows: white and sweet wines become unusable in 2-3 days, red and dry wines - in about a week.
Earlier, OBOZREVATEL told where not to store perfume in the house.
Subscribe to OBOZREVATEL's Telegram and Viber channels to keep up with the latest news.