Trending:
Never fertilize your vegetable garden with it: popular products that are actually harmful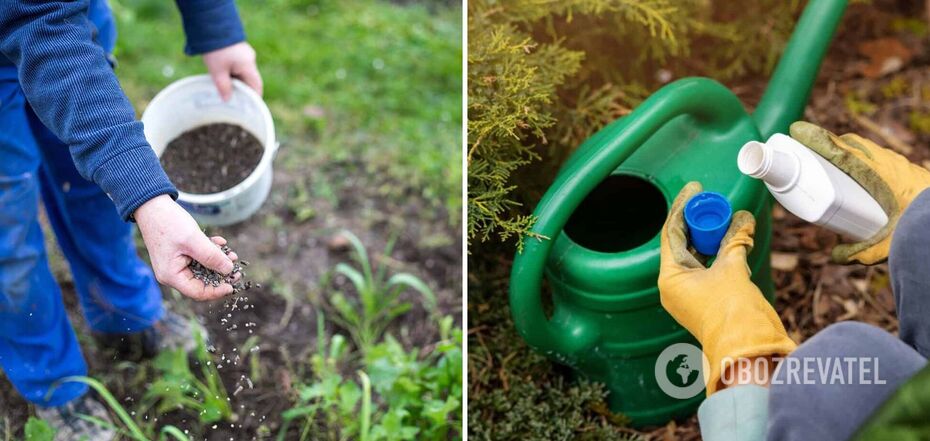 Some folk remedies can only harm the plants
The Internet abounds with know-how on how to feed the vegetable garden to get the best harvest. But, as usual, not all of these tips have a real basis. Many of them are not only not useful, but also can cause serious harm.
OBOZREVATEL collected the top means, which professionals do not recommend to feed crops. It can even be dangerous.
Yeast
Yeast is considered a good food for soil bacteria. It really is. But no benefit to plants is derived from it. Instead, they deplete the supply of certain nutrients from the soil, such as potassium and calcium.
Fresh barnyard manure
Manure is one of the first fertilizers known to man. But you can use only that which has been lying for a certain time - a year or two. This allows you to get rid of pathogenic bacteria and reduce the content of nutrients. Fresh manure is so rich in them that it can harm plants - cause chemical burns and cause their death.
Potassium permanganate
Pink solution of manganese is commonly used to disinfect seeds and feed seedlings in the beds. But potassium permanganate is a strong oxidizer, which is categorically not suitable for use in acidic soils. However, its use in alkaline soils does not make sense, because in such a combination it is not assimilated by plants. As for its bactericidal properties, when applied to the soil, manganese kills not only harmful, but also vital microorganisms. However, it can be used to treat garden tools.
Salt
Ordinary table salt is attributed the ability to repel pests. But this is a myth. The presence of salt on the soil does not interfere with insects in any way. But it can seriously harm plants, because the salt crust on the surface of the ground prevents them from getting enough moisture and oxygen. This can be remedied by digging up the soil. Some people believe that salt can be used to weed out weeds, and they will really feel bad after such watering. But useful plants will also suffer from excess salt.
Baking soda
Another white powder from the kitchen assortment, to which the properties of fertilizer are attributed. But the sodium in both salt and soda is harmful to plants. If you want to neutralize too acidic soil with soda, then leave this idea - to somehow affect its chemical composition, you will need too much means. Ash or quicklime will do the job better.
Banana peels
In this organic waste is really a lot of useful elements for plants - potassium, magnesium and phosphorus. But at the same time, banana peels contain substances that acidify the soil. This leads to a deterioration of the taste of fruits and increases the risk of rotting diseases of plants.
Earlier OBOZREVATEL told how to fertilize the vegetable garden proven fertilizer - ash.
Subscribe to OBOZREVATEL channels in Telegram and Viber to be aware of the latest events.