Trending:
Nazi submarine found in Argentina: may confirm crazy theory of escape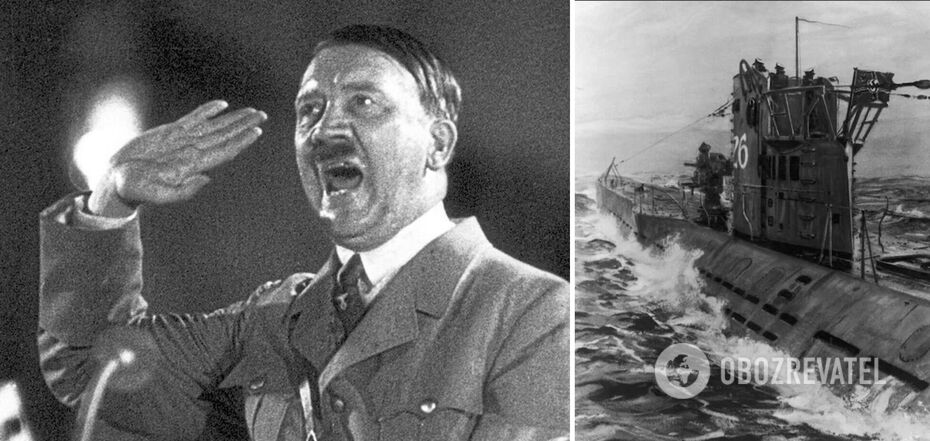 The found submarine could have been used to evacuate Hitler to Argentina. Source: British Pathe/collage by OBOREVATEL
In 2022, a submarine was discovered near Argentina, most likely used to transport fugitive Nazis to the country. The journalist reviewed documents classified by local authorities, confirming this long-standing theory.
The Eslabón Perdido research team discovered the remains of the sunken ship off the beaches of Costa Bonita and Arenas Verdes at a depth of 28 metres. This is reported by the Jerusalem Post (to see the photos, scroll to the end of the news).
After analysing the photos, experts believe that this boat may be German.
This is indicated by a number of signs: the structure of the ship, design features and the presence of a yellow plate marked with two S-shaped symbols, very similar to the German font used during the war.
The location also confirms that it is a Nazi boat, as the area was avoided by American or British ships at the time.
The leader of the research team, Abel Basti, believes that this vessel could have transported Hitler to South America at the end of the war. After that, the submarine was deliberately sunk to cover its tracks.
"There are reports from that time that talk about the landing of Nazi leaders in the area," he said.
The Argentine Ministry of Security suspended all investigations after receiving an independent report on the submarine wreck, despite the fact that the UN Convention on the Law of the Sea requires the return of the sunken vessel to its country of origin.
However, British journalist Laurence de Mello Simon has reviewed confidential government documents that suggest the possibility of a "smuggling" route created by the United States and Argentina to smuggle fugitive fascists to South America.
Earlier, OBOZREVATEL told about a top-secret World War II submarine that was found off the coast of Greece.
Subscribe to OBOZREVATEL's Telegram and Viber channels to keep up with the latest news.