Trending:
NASA's mission to a metallic asteroid may reveal the secret of Earth's creation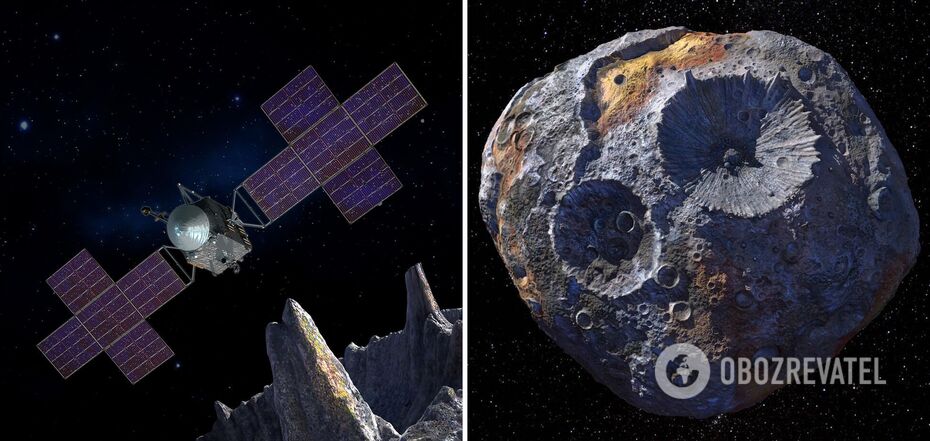 Asteroid Psyche may be the iron core of a once young planet. Source: NASA/JPL-Caltech/Arizona State Univ./Space Systems Loral/Peter Rubin/collageOBOZREVATEL
On October 5, 2023, the US space agency NASA intends to launch a mission to the unique asteroid Psyche. Its peculiarity lies in the fact that this celestial body may turn out to be the bare metal core of the once young planet.
This is reported by New Scientist. If the scientists' guess is correct, it may reveal to humanity the secret of the formation of our home planet Earth.
Psyche makes a full revolution around the Sun in 5 Earth years. This asteroid is only 300 kilometers across at its widest point, making it quite small, especially considering that at its closest point to Earth, it is still three times farther away than distant Mars. These two factors have led to the fact that Earth scientists have very few observations of it and know almost nothing about its surface, origin, or even composition.
According to the data that is available, Psyche is most likely almost entirely composed of metal, most of which scientists assume is iron.
The media have even suggested that NASA is interested not so much in the scientific component of the mission to the asteroid as in estimating its value in order to subsequently deliver it to Earth's orbit for disassembly into expensive spare parts. But scientists completely deny even the possibility of such a development.
"We don't have the technology to bring it back, and even if we could bring it back to Earth, it would probably be a catastrophic mistake for the planet because we don't know how to park something in orbit," said Linda Elkins-Tanton of Arizona State University, principal investigator of NASA's Psyche mission.
She insists that Psyche is intended "only for scientific research, not for profit."
According to Elkins-Tanton, scientists' ignorance about what exactly the asteroid is makes it only more exciting to study it, as people have never seen an object of this type up close before. Recent remote observations indicate that Psyche may contain more silicate minerals than previously expected.
The scientist is sure that this asteroid will be very unusual for the human eye in any case.
"Who knows what it looks like? We literally have no idea. When we make craters in metal in the laboratory, strange things happen. You can get spikes and sand from metal balls all over the surface, as well as ledges and rocks that are different from what we see on rocky worlds," she said.
But that's not all. Metallic space objects like Psyche may be a key ingredient in the formation of rocky worlds. Even those like Earth. Our planet, like other rocky worlds, contains iron cores, but scientists have never been able to study them directly because they are very deep underground. Now Psyche may give us that chance.
"As a species, we're so attached to rocky planets, but the one missing ingredient we've never been able to study up close is the metal core. It's like we've been making cakes, but we've never met an egg before. Now we're going to meet the egg," Elkins-Tanton explained.
The NASA spacecraft is expected to arrive at Psyche in 2029. It will be equipped with four scientific instruments: a camera, a spectrometer to measure the asteroid's composition, a magnetometer to study the magnetic field, and a telecommunications system that will double as a means to measure the gravitational field and internal structure of Psyche.
All of them can help scientists discover the secrets of Psyche and its likely connection to the Earth's core.
Earlier, OBOZREVATEL reported that NASA will drop samples of an asteroid that could be the "father" of life to Earth.
Subscribe to OBOZREVATEL' s Telegram and Viber channels to keep up with the latest developments.