Trending:
NASA's probe flies through a solar explosion, recording something no one has ever seen before. Video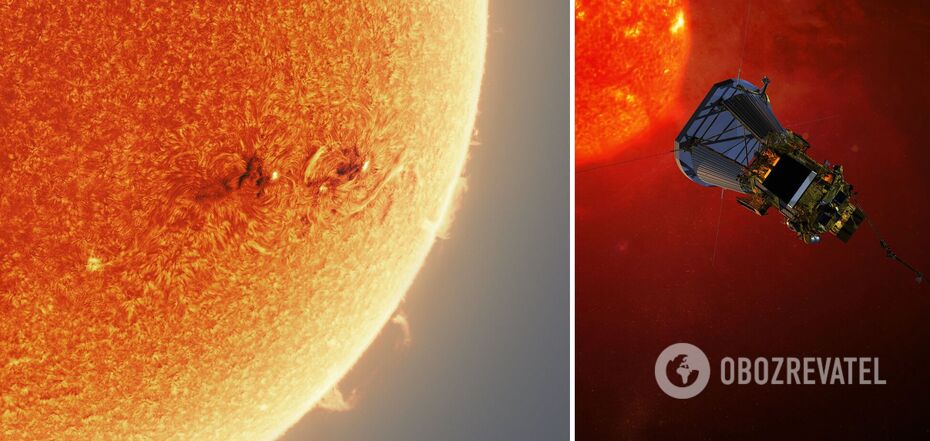 Parker probe is able to ''kiss'' the Sun. Source: Andrew McCarthy/NASA/Johns Hopkins University APL/collage by OBOZREVATEL
NASA's Parker Solar Probe has recorded a previously unseen phenomenon near the Sun. The spacecraft encountered a coronal mass ejection from the Sun and filmed the explosion sweeping away cosmic dust.
This is stated in NASA (to watch the video, scroll to the end). The recording was made on September 5, 2023.
The explosion is known as a coronal mass ejection (CME). Such events have consequences for the entire solar system. That is what the probe managed to record. It filmed how the CME disperses interplanetary dust.
"These interactions between CMEs and dust were theoretically predicted two decades ago, but were not observed until the Parker Solar Probe," said Guillermo Stenborg, an astrophysicist at the Johns Hopkins University Applied Physics Laboratory in Maryland (USA).
"A cloud of cosmic dust fills our entire region. This dust consists of debris from planets, comets and asteroids. Just like earthly dust, which can appear to be suspended in space when sunlight hits it, space dust can reflect sunlight and create the same effect.
When the NASA mission team reviewed the probe's recordings, they found a CME flare followed by a decline in the background glow. According to the scientists, this indicated that the dust had been blown away.
At the same time, the "removed" dust was almost instantly replaced by fresh dust, which can be seen in the video.
"The CME pushed the dust to a distance of about 6 million kilometers from the Sun, which is about one-sixth the distance between the Sun and Mercury. However, it was almost immediately replenished by interplanetary dust that flew through the solar system," NASA said.
This phenomenon has never been seen live before, as no human-made spacecraft has ever come as close to the Sun as the Parker Solar Probe. Scientists say that NASA's spacecraft can "kiss" the Sun and pave the way for science that was previously inaccessible.
NASA explained that what the Parker probe recorded is important "because it is very difficult to characterize the dynamics of dust in the CME trail at a distance (from Earth - Ed.)."
The researchers believe that studying the physics of the interaction between CMEs and cosmic dust can be important for predicting the weather in space. This will give scientists an understanding of how the Sun interacts with the debris flying around our system.
It could also help to better understand why satellite or communication system outages, power outages and auroras are caused by the Sun.
Earlier, OBOZREVATEL reported that tiny jets, which could reveal one of the secrets of our star, were discovered on the Sun.
Subscribe to OBOZREVATEL Telegram and Viber to keep up with the latest news.