Trending:
Mercury was shown from a distance of only 236 km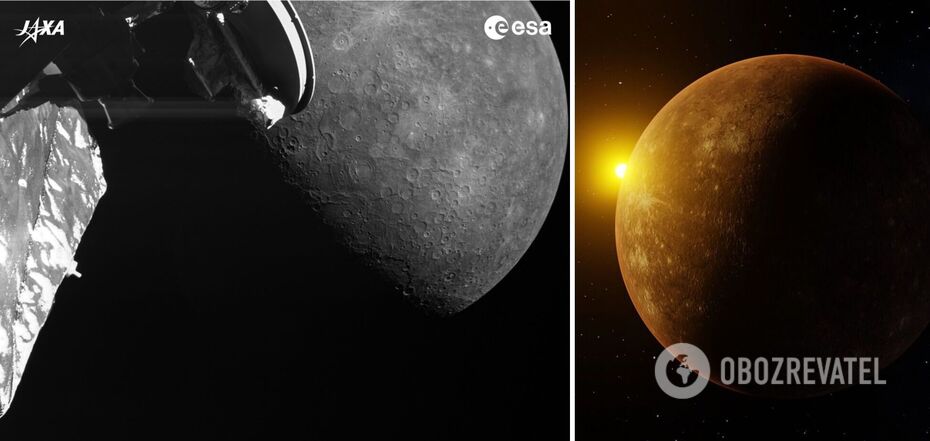 Mercury was shown from a distance of only 236 km
The European Mercury probe BepiColombo made its third close flyby of Mercury on Monday, 19 June, revealing a surface riddled with craters. The probe flew 236 kilometres from the planet's surface. The scientists responsible for the mission took the opportunity to measure the environment near the planet closest to the Sun and take pictures of its scorched surface.
This was reported by the European Space Agency (ESA) and published close-up photos of Mercury taken by the BepiColombo probe. ESA released the first of these new images on Tuesday, less than 24 hours after the probe made its closest approach to the planet.
The photos show what ESA described as Mercury's "geological bounty": an abundance of craters, ancient volcanic mounds and lava flows.
One of the most intriguing features in the photographs is the crater, which was recently renamed Edna Manley (Edna Crater) in honour of the Jamaican-British artist who died in 1987.
This crater will undoubtedly be of interest to BepiColombo scientists in the future, as the probe has detected dark "low reflectance material" that could be the remains of Mercury's early carbon-rich crust. In addition, the bottom of the basin was flooded with smooth lava inside it, suggesting a long history of volcanic activity on Mercury," commented David Rother, Professor of Planetary Earth Sciences at the Open University of the United Kingdom and a member of the BepiColombo Science Imaging team.
The spacecraft also spotted the Beagle Rupes shelf, a 600km-long rock formation that formed billions of years ago as the young Mercury cooled and contracted, causing its surface to become wrinkled like a drying apple.
The images also show a variety of ancient impact basins that were swallowed up by an avalanche during the first billion years of the planet's life, when it was still tectonically active.
As OBOZREVATEL previously reported, scientists have discovered an amazing cosmic symmetry that gave humanity a chance. The planets of the terrestrial group of the Solar System - Mercury, Venus, Earth and Mars - should have collided with each other as they roam the cosmos, but a mysterious force keeps them from this catastrophe.
Only verified information is available on our Obozrevatel Telegram channel and Viber. Don't fall for fakes!