Trending:
Media: Pantsir missile system on roof of Russian defence ministry building fails to shoot down drone attacking Moscow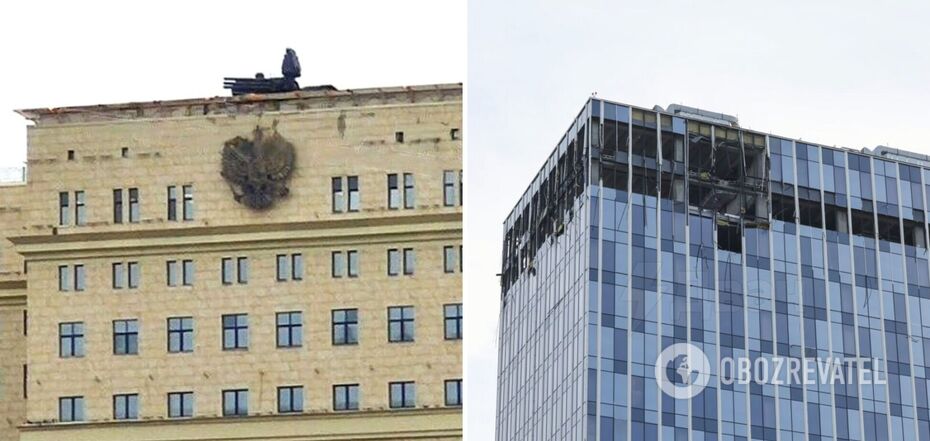 ''Pantsir'' on the roof of the Russian Defence Ministry failed to repel a UAV attack on Moscow on 24 July
A Russian Pantsir-S1 surface-to-air missile system located on the roof of the Russian Defence Ministry headquarters failed to shoot down an enemy drone that attacked the capital on 24 July, despite being less than 300 metres from the point of impact. On Monday morning, eyewitnesses did not see any evidence of the system's operation.
The Radio Liberty media outlet drew attention to this. It recalled that the Russians had installed air defence systems at the end of last year, when they realised that the threat from Ukraine was more than real. It is since then that Pantsir has been "guarding" the building of the Russian Ministry of Defence.
The article noted that the UAV's strike on the Russian military building complex on Komsomolsky Avenue was less than 300 metres away from the point where the surface-to-air missile system was located, but it did not work.
The spokesman for the Ukrainian Air Force, Yuriy Ihnat, explained that it is impossible to shoot down a UAV with a Pantsir standing on the roof.
"It cannot shoot downwards. It is designed to shoot upwards. That is why such decisions look strange at least," Ihnat said.
As a reminder, the Pantsir was installed on the roof of the Russian Ministry of Defence building in January 2023. It was placed there using a crane. Air defence systems were also installed on other administrative buildings in Moscow. One, for example, is on the building of the Moscow Business Centre, which is located just 2 km from the Kremlin. The address of the building: 8 Teterinsky lane.
At the end of January, it became known that at least three Pantsir-S1 air defence systems were deployed in the centre of Moscow, with the Kremlin in the centre of the "protective shield". In addition, Russians spotted Pantsir 10 km from Putin's residence near Moscow.
In response to this news, a wave of memes spread online. The public ridiculed such steps by the terrorist state, which last year confidently declared that it would "take Kyiv in three days". And almost a year into the war, when residents of the border regions of Russia and Crimea have already experienced the "special operation", it claims that "everything is going according to plan".
As OBOZREVATEL previously reported, the Russian military in Moscow has also deployed an additional Pantsir-S1 anti-aircraft missile and gun system on the surface of the mothballed Salaryevo landfill. Previously, a radar station had been deployed there.
Only verified information is available in our Obozrevatel Telegram channel and Viber. Do not fall for fakes!