Trending:
Manicure by zodiac sign: an unusual trend of summer 2023 that delighted fashionistas. Photo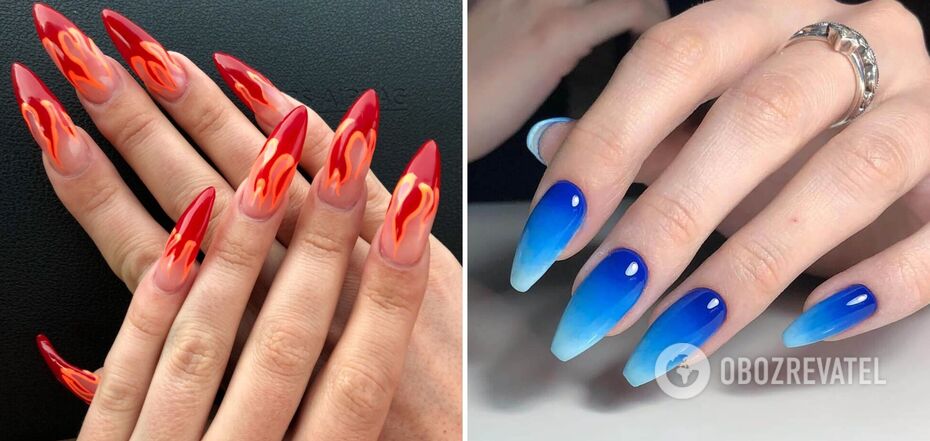 The perfect manicure can be matched by zodiac sign
Choosing a manicure for your zodiac sign is one way to individualize and express your style based on astrological characteristics. For many people, their sign has a special meaning: they believe in its influence on their personality and interaction with the world.
Manicures can be used to create a deeper and more meaningful connection to inner aspirations and emotions. Appropriate design can stimulate positive aspects of character, emphasize uniqueness and even help you feel balanced and united with your sign.
OBOZREVATEL has gathered trending nail designs for 2023 according to zodiac signs that will help reflect personal preferences and harmonize with individuality.
Aries (March 21 - April 19)
Aries love expressive and energetic solutions. Bright colors, designs with rhinestones or geometric patterns will suit them. Aries, as a fire sign, should decorate their nails with chrome flames.
Taurus (April 20 - May 20)
Tauruses appreciate natural beauty. Green is a shade of strength for this zodiac sign. The acidic nail trend suits Taurus and emphasizes their personality.
Gemini (May 21 - June 20)
Gemini are creative individuals. Calm colors, gradients, distracted drawings or designs with symbols are suitable for them. Representatives of this zodiac sign love entertainment, talk fast and are fickle in love. Chamomile with its "likes-dislikes" decision-making method is the flower of strength for Gemini.
Cancer is a sign that holds on to the past. Soft pastel colors, floral designs or a "French" manicure with crystals are possible options. However, you should pay attention to extraordinary solutions in manicure, which will be directly related to your life. For example, the bright representative of Cancer singer Taylor Swift paints her nails in shades dedicated to her discography.
Leo (July 23 - August 22)
This summer manicure trend is for the kings and queens of hearts. Lions are dramatic and creative individuals. Bright colors, manicures with geometric details or rhinestone decor suit them.
Virgo (August 23 - September 22)
Virgos appreciate concise style and flawlessness. A classic manicure or minimalist designs will look great on their nails. Virgo harmonizes with the muted tones and precise angles of this minimalist rainbow manicure with French design, serving as a kind of transition to the summer season.
Libra (September 23 - October 22)
Libras are aesthetically oriented individuals. They fall in love with designs with abstract elements, gradients or images of hearts. Libra is ruled by Venus, which was named after the goddess of love. In its natural form, strawberries are heart-shaped and have long been associated with the decadent deity.
Scorpio (Oct. 23-Nov. 21)
Scorpios are mysterious and strong personalities. Dark colors or manicures with geometric details will suit them.
Sagittarius (November 22 - December 21)
Sagittarians are cheerful and energetic people. Bright colors, drawings with the sky or zodiac signs suit them. Sagittarians are blue sky thinkers who always look up and shine, truly believing that the best is ahead.
Capricorn (December 22 - January 19).
Capricorns appreciate classics and elegance. Classic manicures, minimalist designs or patterns with geometric shapes will appeal to them.
Aquarius (January 20-February 18)
Aquarians are creative and unconventional individuals. They can try a manicure with light effects or design with stickers. They are an air sign and the word "aura" comes from the Greek "breath", meaning air in motion. This nail trend is inspired by aura photography, which is an attempt to capture the energy that surrounds a person.
Pisces (February 19 - March 20)
Pisces appreciate tenderness and dreaminess. Sea motifs, pastel colors or designs with flowers are suitable for them. The ideal manicure trend for representatives of this sign is "mermaid chrome".
Earlier OBOZREVATEL reporten on animal prints that are back in fashion in 2023. Photos of leopard and snake designs can be found here.
Only verified information from us in Telegram-channel Obozrevatel, Threads and Viber. Do not fall for fakes!