Trending:
Makes grilling much easier: why you really need spiral skewers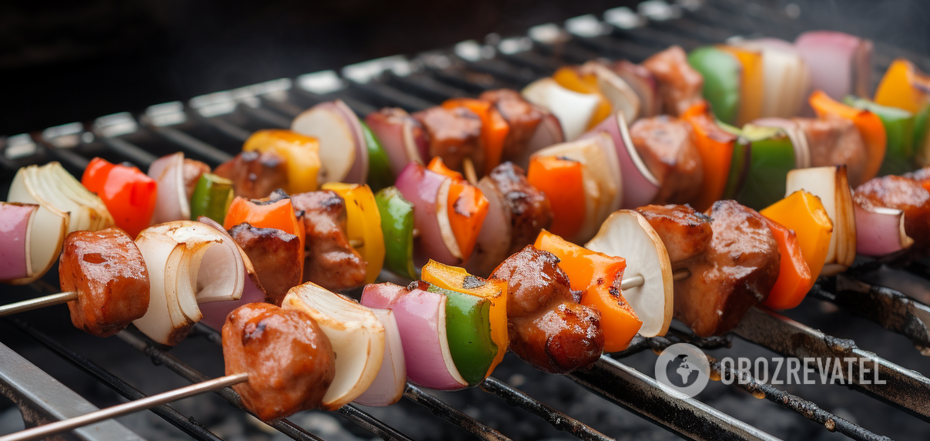 Lifehacks for grilling kebabs
The end of August is the perfect opportunity to grill kebabs in nature and enjoy the last days of summer. Not only the chosen marinade is important but the cooking process as well.
Skewers are usually used for cooking meat, but many people do not know the nuances of their use. OBOZREVATEL looked into why you need a spiral one.
Why do you need spiral skewers
Specialists said that both spiral and loop skewers are of great importance. The spiral shape helps to qualitatively fry meat from all sides. It securely fixes the skewer on the grill and simplifies the process of frying.
Thanks to the spiral, the skewer can be easily turned even with one hand and minimum effort without additional tools.
The spiral also prevents rapid heating. It is important to choose the right skewers: the curl should start 5-7 cm from the ring.
What is the purpose of the loop
The loop skewer is necessary for hanging, but its main purpose is found in the process of removing the cooked meat on a plate. The loop helps not to burn your fingers.
How to use the loop
Take two skewers. Put the loop from the empty skewer on the skewer with a ready kebab from the handle side and carefully lower it down, pushing the meat into the plate.
The need to wash the skewers from grease and burnt food residues is what can spoil a picnic. To know how to clean the dirt with the help of improvised means quickly and effectively, read the material.
OBOZREVATEL also shared how you can clean the barbecue grate. White vinegar, for example, cleans grease and burnt food. A nice bonus is that vinegar acts as an odor neutralizer.
Subscribe to OBOZREVATE Telegram and Viber channels to stay up to date with the latest news.