Trending:
Make the house bright: the best houseplants that bloom all the time and are hassle-free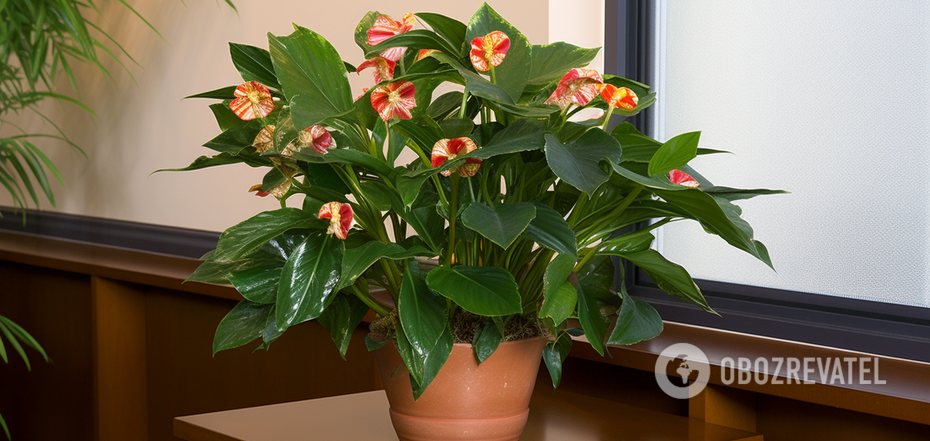 Unpretentious indoor plants
Houseplants not only create a cozy atmosphere but also provide benefits by oxygenating the air. There is not always time and opportunity to constantly transplant and fertilise plants, choose the optimal lighting regime and regulate watering.
OBOZREVATEL picked up the best unpretentious flowers that bloom brightly and will not cause trouble. Read our material below.
Chrysanthemum
Caring for the chrysanthemum is easy. You should water the plant in time and put it on a light windowsill. The flower adapts to temperature fluctuations quickly and even withstands winter frosts. Chrysanthemums grow from early summer to winter in the garden, but you can plant these plants not only in the flowerbed but also in pots as decorative plants.
Anthurium
Anthurium loves moisture, so you should water the roots and spray the leaves regularly. It is an unpretentious plant that will bloom even without fertiliser. Anthurium is quite hardy, but it is better not to keep it in cool and shady places.
Violet
Violets are one of the most popular indoor plants. They can grow all year round. It is important to moisten the roots regularly by pouring water into the tray. Violets like diffused sunlight and will not grow well in shade.
Hibiscus
Hibiscus are generally hardy and resilient but should be watered and sprayed regularly. Not doing so will cause the plant to drop its flowers. Hibiscuses like sunlight and frequent fertilisation.
Geraniums
Geraniums can be grown at home and in the garden. The plant does not need special care and fertilisers. The only nuance is taking care of timely watering. In summer, it is better to transplant geraniums to the flowerbed, because the plant likes sunlight and fresh air.
Begonia
Unpretentious begonia does not need spraying, but will not grow well in drought conditions. It needs sufficient moisture. Fertilisers are not necessary, experts advise trimming the shoots only.
Experts have compiled a rating of the top 5 indoor plants that will help to maintain the temperature of the house at the proper level. This is especially relevant during the summer heat when every degree to cool the room is important. Read in detail in the material.
Earlier OBOZREVATEL spoke about the simplest room flowers, which do not need to constantly water.
Subscribe to OBOZREVATEL channels on Telegram and Viber to be aware of the latest events.