Trending:
Madonna, Beyoncé, Monica Bellucci and others: which Ukrainian designers have won the hearts of world stars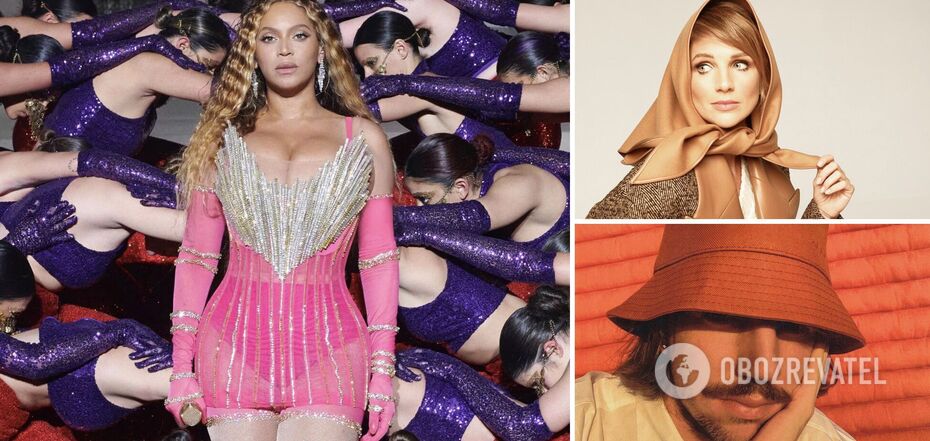 Our majestic country has certainly managed to become known for the courage of our army and the resilience of our people. However, do not think that Ukraine is not also known as a fashionable country. We have something to show the world, and the world always has a great respect for what we have to offer. So, over the last few years, some very powerful Ukrainian stars have appeared on the fashion scene of the world. Are you ready? Right now I am going to introduce them to you closer.
Ruslan Baginsky
Ruslan is a world-renowned master of hat making.
He started making hats for men in Lviv. Ruslan's highlight is that one day he decided on his own that he wanted to learn how to make hats, and... And how he learned! Even now, when his brand is known around the world, making hats remains his family business. As Ruslan admits in one of his interviews, his mum is in charge of all production. Perhaps that's why his hats are in such demand - they have a Ukrainian soul.
Ruslan became a real star after Bella Hadid put on his baker cap. The list of stars who have worn Ruslan's hats has since been extended to include Kaia Garber, Madonna, Janelle Monet and many others. Other designers began to reproduce the kepis as well, as many wanted to look stylish despite a small budget, for example. Now every Influencer has this piece in his wardrobe, as its trick - combining with anything - makes the hat versatile.
Ivan Frolov
This Ukrainian designer was probably the one who was mentioned most often on public fashion platforms over the past year. Ivan is the man who designed an insanely popular, sophisticated and offbeat dress for Miss Universe. And what about the provocative outfits featured in Sam Smith's new music video? They were ordered from a Ukrainian designer, who was needed for the production and had nine pieces at once. For a long time afterwards, the world talked about the outrageousness of the clothes, which is exactly what Hollywood stars need to be popular. Among Frolov's clients was the world famous Beyonce, for whom the designer created a dress for a performance, and added gloves and leggings made of crystals to the image.
The result is unbeatable.
The Coat by Kateryna Silchenko
Once upon a time Katya created images for her group of dancers, then designed costumes for many Ukrainian choreographers and finally, in 2013, Silchenko started working under her own brand, putting into her elections everything that makes us Ukrainian women special - strength, passion, delicacy.
Many beautiful women around the world have become clients of the brand.
As for me, Kateryna Silchenko simply could not have any other fate than to become a popular designer.
Her brand's items are almost a unique combination of high quality and feminine, very individual style. Just what is needed for a woman who knows her price but does not want to be flamboyant in her everyday life. Among the famous clients of Kateryna Silchenko, quick to envy the British singer Rita Ora, who has already become a regular customer of the Ukrainian designer's brand.
By the way, Katya once said that "every woman continues to rebuild this world every day".
Imagine how relevant this is now in a time of war and in anticipation of victory. Everyone, I have goosebumps!
Liliya Litkovskaya
When it comes to Liliya Litkovskaya, you immediately think of Naomi Campbell and Monica Bellucci. These women, admired by the whole world, are more than happy to wear clothes designed by Litkovskaya. Liliya's brand was recognised by Vogue magazine as one of the most promising and Liliya herself was hailed as a talented young designer. The same year she debuted at Paris Fashion Week with the opening of a showroom. Now her clothes are sold in the best shops in Paris, New York and Seoul.
LITKOVSKAYA is a very progressive brand, which plays with elements which are considered to be exclusively male or exclusively female. These clothes are adored by girls with a bold sense of style.
So, did I assure you that Ukrainian designers are style ambassadors in our country and in the West? And we have not yet mentioned famous designers such as Bevza, Burenina, Ksenia Schneider, Andre Tan, Santa Brands, Yulia Magdich, Kowalska, TTSWTRS and many others. These designers are examples of how trends that were introduced in Ukraine or by Ukrainians have conquered the world.
Personally, I am very happy that Ukraine is showing its value and interest on all fronts.
We are a unique nation, which can do everything. Our designers show it every day. So be proud of fashionable Ukraine.