Trending:
Lots of hills and delicious wine: what you need to know before visiting Portugal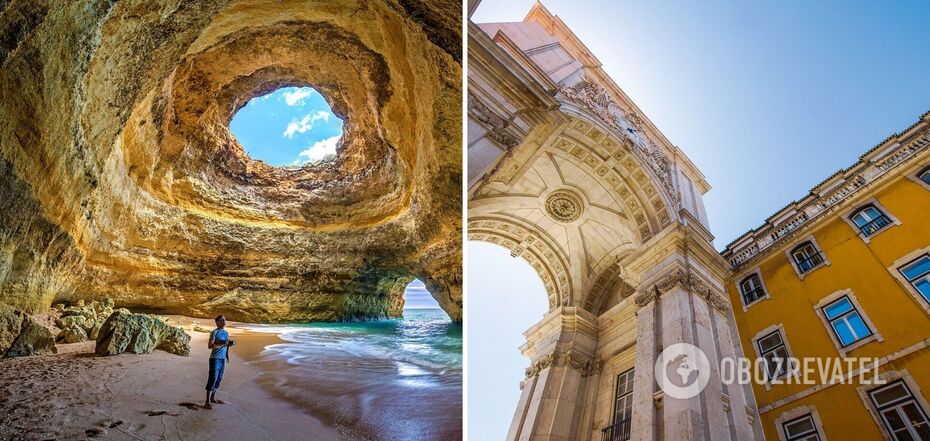 Important facts before visiting Portugal
Portugal is a country attracted by its luxurious coastline, tranquil provincial towns and rich history. This small state is the westernmost point of mainland Europe. It boasts striking landscapes, fascinating architecture and a unique cultural heritage.
From the charm of Lisbon to the pride of Porto, from the beautiful Algarve coast to the historical treasures of Sintra. Portugal offers an unforgettable experience for every traveler. In this article, we take a closer look at how best to prepare for a trip to a country on the Atlantic Ocean.
Not everything at once
Although Portugal is more than 6 times the size of Ukraine, the notion that you can see everything in one trip is wrong. There are countries that do not tolerate haste, and this is just one of them.
The fact that even the Portuguese themselves are never in a hurry. This is not a nation of procrastinators, but skipping important things for a trip to the beach is not a rare thing here. So we recommend leisurely strolling through the old streets, pausing occasionally to get a better sense of the culture.
And there really is a lot to see. Few places in Europe offer such colorful facades. And that's not to mention the huge number of historical buildings scattered throughout the area.
Plan your trip
Planning is an important part of any trip. The first thing to do is to decide where you are going to stay. Lisbon and Porto are usually the two largest cities in the country. They account for half the population. Given the popularity of these areas among tourists, you should book accommodation in advance. This can be one of the many hotels, or a private house or apartment, depending on what you prefer.
The second step is to create a must-see list. Here you can use your imagination or see the recommendations of more experienced travelers. Because Portugal has a fairly well-developed transportation system, you are not limited to the region where you live. You can reach your destination comfortably and quickly by train.
Even so, you should keep in mind that public transport schedules in Europe are subject to change, so it makes sense to download one of the apps that will allow you to keep track of this. It will be much cheaper than a cab into town and a ruined evening.
Make sure you have comfortable clothes
Depending on which part of Portugal you choose, the climate can vary significantly. This is due to its proximity to the ocean, which makes weather changes quite rapid. A casual style is best, with the ability to transform your clothes depending on the air temperature.
Don't forget about comfortable shoes either, since we're talking about a country with mountainous terrain, so many of the locations to visit will be on the hills. Even if you're not a fan of hiking, the hours-long hike can be exhausting.
Be sure to put a swimsuit or swim trunks in your backpack or bag, even if you're going for a walk around town. Keep in mind that Portugal has 1,793 km of coastline, which means that wherever you are, the ocean is relatively close, and with it the local beaches. If you do go inland, there's a good chance you'll stumble upon a lake or other body of water. So it would be especially unfortunate in the summer if you didn't bring your bathing clothes.
Local food and wine
Portuguese wines are considered some of the best in the world for a reason. As you walk through the streets of Lisbon, you're likely to come across a large number of couples discussing life vividly over a glass. This drink can rightly be called a national drink. In addition to its pleasant, velvety taste, it has no adverse reactions, even for people who usually complain of headaches.
A friendly reminder: Depending on the locality, the attitude towards tips will vary. In local settlements they are not obligatory, but in touristy places they are about 10% of the cost of the order. Keep in mind that everything on your table has a price. Local waiters like to bring water, bread and butter, which you will then be surprised to see on the receipt. The best solution is to politely decline right away.
Local markets are a paradise for seafood lovers. You'll be overwhelmed by the variety of seafood on offer. Every day you can eat something new and you will hardly have time to try everything. As we've said before Portugal is not about being late, it's about being happy. Tourist guides strongly recommend taking a large bag or bag to take your food with you.
Since these markets are usually close to the ocean, you can turn immediately to one of the beaches and make an impromptu picnic. This is especially recommended for lovers to try. It's very romantic.
Don't forget to keep an eye on things
Although the country does not appear in the most criminal ratings, it has its own peculiarities. The fact is that the unemployment rate among the Portuguese is twice as high as in Ukraine. This has led to a large number of thefts, the victims of which are often tourists. It would be very disappointing to lose your phone, documents or money in one of the streets of the city. In transport we strongly recommend to keep a backpack or a purse in front of you, and money to hide in a waist bag under clothing.
It is also not a good idea to walk alone in small streets with few people. It is better to stick to a busier path or use a guide. If you do get lost, call a cab rather than trying to find your way out on your own.
Learn a few phrases in Portuguese
Although Portugal is considered one of the most developed countries in terms of tourism, not all locals speak English. Learning a few basic phrases would be interesting and useful. In this way, you will join, at least for a moment, the 232 million people around the world, because Portuguese is the national language for 9 countries at once.
Previously OBOZREVATEL told about the unusual car routes in Europe.
Only verified information on our Telegram-channel Obozrevatel and Viber. Do not be fooled by fakes!