Trending:
Loss of one atmospheric component will turn the Earth into a block of ice: scientists' calculations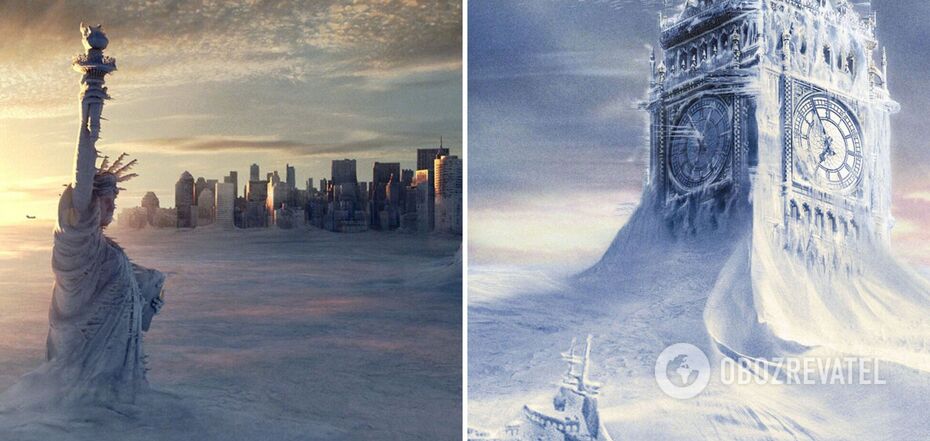 The planet of eternal winter is not a pleasant place. Source: stills from the film The Day After Tomorrow / OBOZREVATEL collage
The ozone layer, which plays an important role in protecting people from dangerous ultraviolet radiation, has also proven to be very important in shaping the planet's climate. If it were not for it, life on Earth would probably exist in a completely different form with a permanent winter.
This is stated in a study published in the arXiv preprint journal. Scientists have for the first time studied the role played by the ozone layer for the climate.
The evolution of the Earth's climate consists of many components, but a new study has shown how important the ozone layer is for the temperature on the planet's surface. Scientists have long known that the ozone layer in the atmosphere is crucial for blocking the Sun's ultraviolet radiation, but no research has been conducted to examine the role ozone plays in climate change.
As it turned out, the disappearance of this one factor alone would lead to a temperature drop of 3.5 Kelvin (about minus 270 degrees Celsius).
Ozone appeared in the Earth's atmosphere after the emergence of life, and stabilised to its current thickness relatively recently.
To investigate the impact of the ozone layer, the researchers ran a series of simulations of the Earth's climate, varying the amount of ozone in the upper atmosphere.
Experiments have shown that the presence of ozone affects the temperature of the Earth's surface, increasing it by about 3.5 Kelvin on average. If we were to lose the ozone layer for one reason or another, it would be a disaster for humanity.
Scientists have found that, first of all, this would lead to a cooling of the upper stratosphere, which would become drier. As a result, water vapour would no longer be concentrated in the stratosphere, disrupting the greenhouse effect that warms the Earth.
A lack of ozone and the resulting cooling of the stratosphere would also destabilise the layer of the atmosphere that prevents clouds from forming. This will lead to clouds being more prevalent at lower and higher altitudes, which will prevent the sun's rays from reaching the Earth's surface.
Earlier, OBOZREVATEL also talked about what will happen when the Earth's rotation accelerates.
Subscribe to OBOZREVATEL's Telegram and Viber channels to keep up with the latest news.