Trending:
Lifehack for lazy ones: what to clean in the apartment if you don't feel like it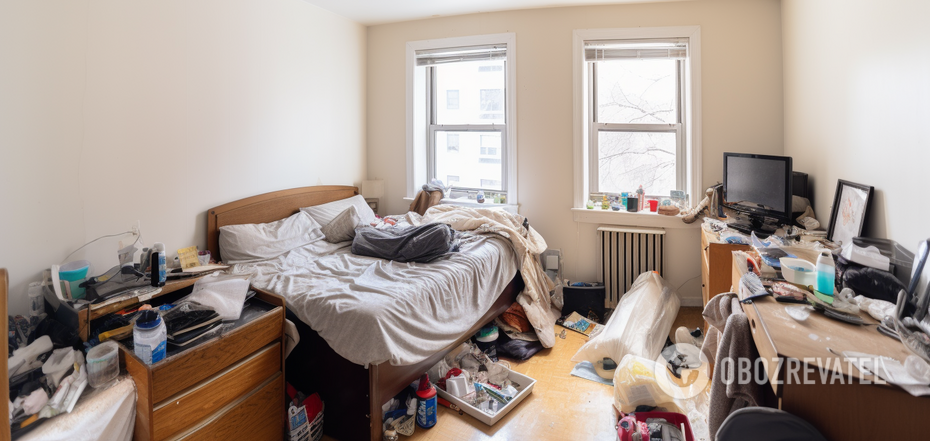 Dirty room
Regular cleaning is the key to a clean and tidy apartment. But sometimes there is neither the time nor the desire to clean surfaces, wash dishes and remove stains.
Expert author Kay C. Davis advises sticking to the five-step rule. NPR reported in more detail.
In a recent interview with Life Kit, Davis shared an interesting cleaning method. The simple tips will help clear a room of trash and junk quickly. "You don't exist to serve your space. Your space exists to serve you. The only thing that matters is whether you are happy in your home and comfortable living in it," Davis explained her philosophy.
Step 1
The expert advises to start cleaning by picking up the trash. Simply take a bag and walk around every room in the house with it, picking up the junk.
Step 2
Now move on to washing the dishes. You can use store-bought remedies or try some folk's lifehacks. Lemon juice and white vinegar are ideal for dealing with dirt. Baking soda will effectively wash away all kinds of dirt on dishes and work surfaces in the kitchen. It can also be used to remove unpleasant odors from the refrigerator.
Step 3
Gather things if they are haphazardly scattered around the rooms. Throw dirty items in the laundry basket. For already-worn but still clean allocate, if possible, a separate box in the closet. Delicate items are better washed by hand, as his will help prevent damage to the fabrics and stretching the fibers. Any standard liquid or powder detergent will work for most things. Thin fabrics may require a softer, gentler option. Using a washing machine, you should choose the eco mode, as it consumes the least amount of energy and water, which allows you to save money every month. In addition, the currently popular biopowders contain special enzymes that lose their effect at temperatures above 30°C.
Step 4
Put things back where they belong: books on shelves, shoes in the closet, construction materials and toys in special drawers, towels in the bathroom, etc.
Step 5
Over time, small things accumulate in the house, which also need to be organized somehow. Davis suggests collecting all the things that don't have room and putting them in a separate garbage can.
The five-step method also involves "deferred" or light cleaning. Collect dirty clothes in the washing machine, dishes in the sink, garbage in a bag, small items in the basket, and then, when there is time and desire, complete the cleaning.
By the way, the experts also advise a method of cleaning under the code name 20/10. It is not suitable for emergency cases when the order in the house should be made in a short time, but it will be useful if you have a long weekend that you can devote to cleaning. Read more about the method in this material.
Previously OBOZREVATEL told about how to clean all surfaces of the oven with three ingredients.
Subscribe to OBOZREVATEL channels on Telegram and Viber to keep up with the latest events.