Trending:
Laundering billions and a "special task" from the Kremlin: hackers cracked the mail of the Deputy Chairman of the State Duma and learned resonant details. Photo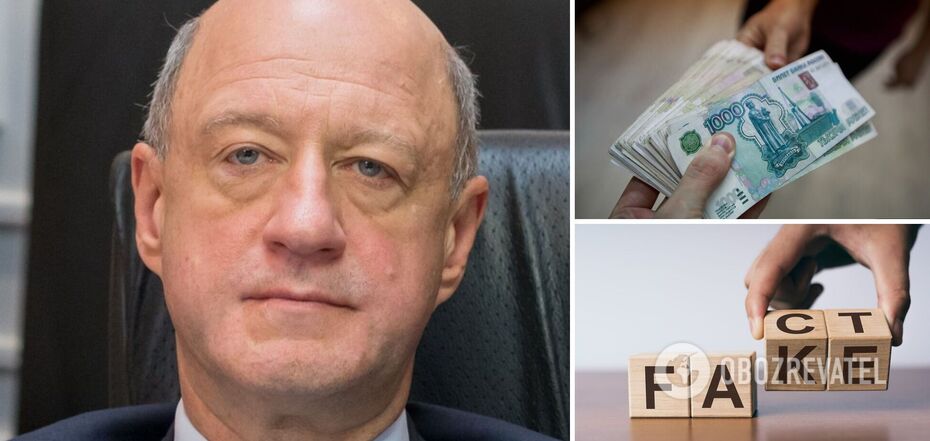 He is responsible for spreading disinformation among foreign parliaments about ''biolabs in Ukraine''
Ukrainian hackers from the Cyber Resistance team hacked into the mail of the Deputy Chairman of the State Duma of the Russian Federation, Alexander Babakov. As a result, it became known about the Russian's personal corruption schemes worth billions of rubles and the formation of the so-called fifth column.
The correspondence published by the international intelligence community InformNapalm shows that Babakov was involved in the implementation of active measures and hybrid influence of the Russian Federation abroad at the parliamentary level (to see the photo, scroll to the bottom of the page).
In Babakov's mail, documents were found with statements on the movement of funds. In particular, on the account of CentroCredit for hundreds of millions of dollars.
"There are several typical schemes he uses. The first scheme is quite simple: lending money to assistants. For example, let's take the most recent one. In February 2023, Yevgeny Zobnin, Babakov's assistant, 'asks for a loan' of 100 million rubles. The term of the agreement is 3 years. Now, during this period, Alexander Babakov will be able to launder corrupt proceeds, bribes and gifts, making them "clean". He will even be able to indicate this in his declaration. As for the "repayment" of such "loans", a very interesting document was found in Babakov's mail - "recommendations for filling accounts based on the calculated balances", the investigation says.
The second money laundering scheme involved real estate. Babakov contributed 770 million rubles as a co-investor in the construction of real estate at Centre Stroy LLC. And according to the MP's declaration for 2022, he earns "only" 8 million a year.
"But it's not about investments. The documents found in the mail show that there will be no construction. Babakov has formally cancelled the contract with the developer, and the latter is obliged to return 770 million. A great money laundering scheme for hundreds of millions of rubles," the journalists added.
They described Babakov's third scheme of illicit enrichment as "helping a friend".
"Just as Babakov uses his assistants and other people as padding, he is used by another person - entrepreneur Alexei Kakhidze. The register of contracts shows loans to Babakov for almost half a billion rubles. But who is Kakhidze? He is another assistant to Babakov, and at the same time the chairman of the board of directors of Gazprom LNG Technologies. The market for LNG technologies is growing rapidly, and Kakhidze is using Babakov to expand the market. Russia is trying to create a new liquefied natural gas infrastructure, investing in the development of gas-powered transport, and offering its LNG infrastructure development projects to Iran and African countries. And Kakhidze and Babakov, in particular, are making money on this," the article says.
In addition, Babakov is the curator of the foreign direction for the spread of Russian World propaganda.
"Since Russia's full-scale invasion, Babakov's main focus has been on expanding cooperation with African and Eastern countries in order to minimise Western sanctions. He was responsible for holding a large-scale Russia-Africa inter-parliamentary conference in March 2023 and worked on the second Russia-Africa summit in St. Petersburg in July this year. As a member of the 2023 parliamentary delegation, Babakov travelled to India and Iran to negotiate economic cooperation and sanctions circumvention. Babakov has an excellent personal relationship with Serbian President Vucic. And, of course, it is not without the formation of a pool of pro-Russian Serbian parliamentarians and political parties who are not ashamed to go to meetings with Russians after the full-scale aggression," the investigators note.
In addition, Babakov actively cooperates with the right-wing radical pro-Russian Georgian party Conservative Movement, which promotes pro-Russian and anti-American/anti-European narratives.
Babakov's emails also contain many other interesting documents on the promotion of Russian interests in Bulgaria, Greece, Mexico, Syria, Turkmenistan, and Croatia.
"Traditional Russian influence is everywhere - getting people hooked on the energy needle or working with local pro-Russian agents and Russian ethnic enclaves. And here, once again, we understand that Babakov, like the entire Russian political elite, is an enemy of Ukraine. Babakov's close cooperation with the International Russian Compatriot (IRC) is the most notable. This is an organisation specially created for hybrid influence and destabilisation. It is an ethnic Russian-dimensional Comintern," the article says.
And the most interesting thing: Babakov is responsible for spreading disinformation among foreign parliaments about "biolabs in Ukraine".
It also became known that Babakov has heart problems and has had a serious coronavirus infection, so he went to Western Switzerland, which is hated by Russia, for treatment. This was after Russia attacked Ukraine in 2014, and despite the fact that he was already under sanctions. Somehow, he was granted permission to travel for treatment on an individual basis.
As OBOZREVATEL previously reported, Babakov recently threw a tantrum on Russian TV over the fall of the Russian ruble. He called the situation a "nightmare".
Only verified information is available on our Obozrevatel Telegram channel, Threads and Viber. Don't fall for fakes!