Trending:
Kyiv and Berlin sign partnership agreement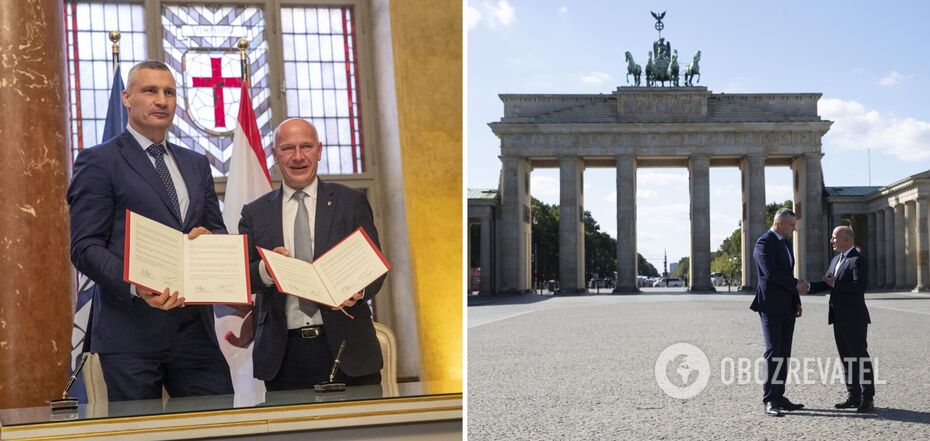 Vitaly Klychko and Kai Wegner sign a partnership agreement between Kyiv and Berlin
On September 14, Kyiv Mayor Vitaly Klychko and Berlin Mayor Kai Wegner signed a partnership agreement between the two cities at the German capital's City Hall. As a sign of the importance of cooperation with the Ukrainian capital and solidarity with Ukrainians, the mayors of the two cities passed through the Brandenburg Gate.
This was announced by Vitaly Klychko on his Telegram channel.
"Berlin is a city of freedom. Today, our German friends have symbolically demonstrated that Kyiv and Ukraine will always be free and a part of the European family. Berlin welcomed the largest number of Ukrainians fleeing the war among the cities of Western Europe. Currently, more than 65 thousand of our fellow citizens live here. The city continues to help them," the mayor emphasized.
Berlin Mayor Kai Wegner noted that partnership and cooperation with Kyiv are among the priority projects for the Berlin authorities. The German capital is interested in deepening cooperation and will continue to support Kyiv.
The mayors of the two cities discussed, among other things, further assistance and the transfer of city buses and municipal equipment to Kyiv. They also discussed the German capital's assistance in Kyiv's creation of a municipal prosthetics center for the military. Berlin is ready to send several prosthetic technicians from innovative Berlin companies to share their experience and provide practical training to Ukrainian specialists. Many Ukrainian soldiers are now being treated and rehabilitated in clinics in Berlin. The city authorities facilitate this.
"Medical care, prosthetics and rehabilitation of our defenders is a very important question for Ukraine. I hope that our cooperation with Berlin, which we will develop in this direction, will help many wounded Ukrainian soldiers," Vitaly Klychko emphasized.
Representatives of the Alliance of Ukrainian Organizations in Germany were also present at the ceremony of signing the partnership agreement at the Berlin City Hall.