Trending:
Jennifer Lawrence, Beyoncé, Ashley Graham and others: 7 celebrities who refused to lose weight for fame and did not regret it. Photo.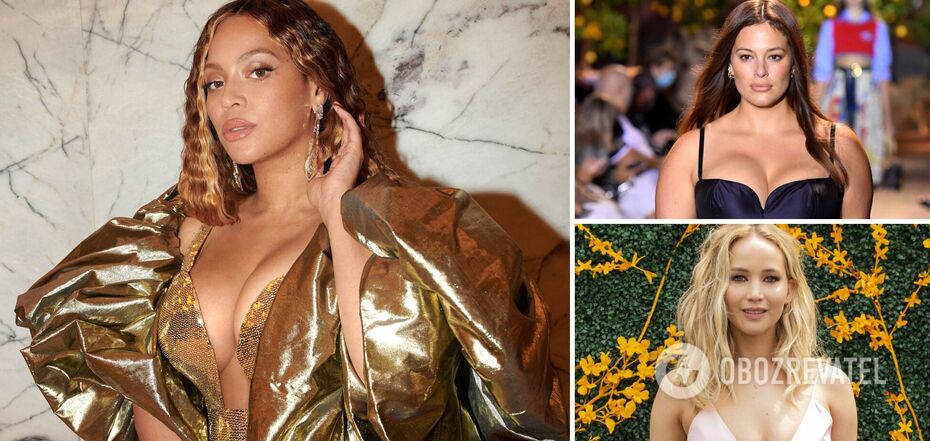 These stars fell in love with their bodies
Not everyone is destined to be slim. Girls torture themselves with diets and hard workouts in the gym because they think they will be loved for their long legs and toned stomach. However, the heroines of our selection prove that appearance is not the most important thing. Even flaws can turn into advantages and bring worldwide recognition.
OBOZREVATEL will tell you about Hollywood stars who have earned millions because they did not change themselves. They did not pay attention to the advice of others and believed in themselves (to see the photo, scroll to the end).
Jennifer Lawrence
At the beginning of her career, actress Jennifer Lawrence was given the task by producers to lose 7 kilograms in two weeks. This request offended the aspiring artist. "The producer made me do a nude shoot with five women who were much thinner than I. After that, he told me to look at these photos so that I would be inspired to go on a diet," the American said in an interview. A few years later, she recalled her behaviour in her younger years and told Elle: "I'm never going to starve myself for a role... I don't want little girls to say, 'Oh, I want to look like her, so I'm going to skip dinner."
Beyoncé
When pop diva Beyoncé was 19 years old, she often heard from others that she needed to lose weight. A few years ago, the singer told Harper's Bazaar glossy: "None of the samples of clothes for performances suited me. I felt a little insecure after hearing some of the comments. But that was the beginning of how I used everything that life gave me. I turned it into a success."
Ashley Graham
Ashley Graham, 35, has become world famous for her shape. But at a young age, even her father told the celebrity that she needed to take care of her body. "The really hard moment was when my dad said: "Honey, if the agent is telling you to lose weight, then maybe you should lose weight," the celebrity recalled.
Aidy Bryant
An American actress who played in the films "I Feel Pretty", "Girls", "The Amazing Spider-Man 2", despite her success, often faced bullying because she was overweight and was offered only mediocre and offensive roles. "There was one case where the script had a man in prison and the producers were looking for an ugly wife to bring him food and have sex with him. And then they said: "And that's going to be you," Aidy recalled. She continued: "I remember thinking, 'That's so insulting to me."
Lizzo
American singer, rapper and actress Lizzo weighs about 140 kilograms and is 178 centimetres tall. This didn't stop her from becoming a millionaire, gathering audiences of thousands and receiving awards for her efforts. She once told a journalist: "A fat black woman can earn more than a 90-60-90 model."
Kelly Clarkson
American singer Kelly Clarkson gained popularity after participating in the American Idol TV show in 2002. At the beginning of her career, the star emphasised the fact that no one cares about the artist's health, but rather about the aesthetic appearance. She said: "I'm happy when I'm fat. People think: 'Oh, there's something wrong with her. She's putting on weight'. I'm like: "Oh, no! Imagine the happiness in my emotional world." If you always focus on what other people think, you will live in a constant state of panic, trying to please everyone."
Kate Upton
When 19-year-old actress Kate Upton first appeared on the cover of a glossy magazine, she was criticised. The people around her convinced her that she was too fat to be a model and build a successful career in cinema. In a comment to the press, the beauty summed up: "I realise that my body confidence was actually meant to inspire women to love themselves, even with huge flaws."
Recently, OBOZREVATEL talked about Hollywood stars who were considered sex symbols 10 years ago and now refuse to look at themselves in the mirror. Their appearance was influenced by their lifestyle, drug and alcohol use, and plastic surgery.
Only verified information is available in our Obozrevatel Telegram channel and Viber. Do not fall for fakes!