Trending:
ISW: Russian Federation has taken criticism of the command of the war against Ukraine to a new level, dissatisfied people were threatened with fines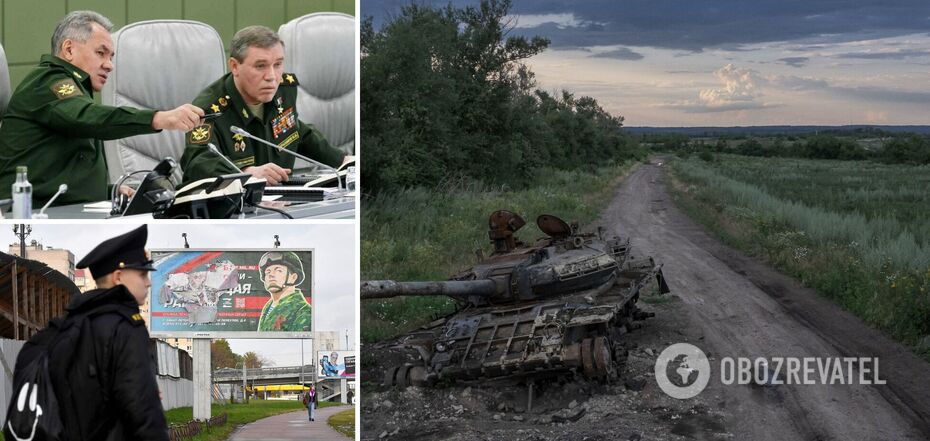 Russian Federation continues to criticize occupation commanders in Ukraine - ISW
Russian ultranationalists are increasingly criticizing their military command for its inability to "attract and train effective military officers" at the mid-level to lead the occupants in Ukraine. At the same time, the aggressor country is preparing to introduce fines for distributing photos and videos containing information about the military activities and location of the Russian Armed Forces.
Senators proposed a corresponding amendment to the laws, reinforcing the recent trend of the Kremlin's suppression of public images of war. This was pointed out in the Institute for the Study of War (Institute for the Study of War, ISW).
For example, some Russian pro-war bloggers have expressed their frustration with mid-level military officers and accused them of introducing unnecessary bureaucratic measures, mistreating wounded and dead members of the Russian army, issuing commands that lead to casualties and generally misinforming Russia's top military commanders.
One propagandist even claimed that a mid-level officer ordered his unit to introduce additional bureaucratic measures after a visit from the commander of the Russian air and missile defense forces, it was probably Lieutenant General Andrei Demin who initially advised him to avoid such bureaucratic practices.
Others argued that anger in the Russian media space directed at average officers should be redirected at top officials who "appointed bad commanders."
The propagandists also noted that the top military leadership of the Russian Armed Forces supports a system that "fails to recruit and train a new generation of officers" of mid-level officers by appointing old and ineffective commanders.
One blogger complained that the Russian military command and the Kremlin are more loyal rather than competent officers who are unable to train new ones, while another argued that Russia will not eliminate this "pernicious culture in its military" without making significant changes in military management.
The head of the Radfed Committee on Constitutional Legislation and State Building Andrei Klishas said that a group of Russian senators had proposed amendments to the laws "On Mass Media" and "On Information, Information Technology and Information Protection" on August 16. They prohibit the dissemination of photos or videos about the deployment and redeployment of Russian troops, military infrastructure and location of critical facilities, as well as content that can be used to confirm the defeat of part of the Russian army in the war in Ukraine.
The amendment also prohibits the dissemination of photos or videos that show the locations of shelling and strikes on Russian territory; can explain how the occupiers use air defense systems, drones and other weapons and disclose information that can help identify the type of weapon, location, launch patterns or flight trajectory.
Klishas said that the official content of the Russian Defense Ministry would be exempt from such punishment. But other violators will be fined up to 500,000 rubles ($5,290) or even imprisoned for up to three years by Russian authorities.
It is noteworthy that the occupation authorities in Crimea announced their intention to propose a similar amendment after the Ukrainian strikes on the Kerch Bridge.
"These efforts are consistent with preliminary assessments that the Kremlin and the Russian Defense Ministry intend to gain greater control over Russian information space and narratives surrounding the war in Ukraine, including attempts to control Russian bloggers," ISW emphasized.
It recalled that propagandists did not comment on the AFU strikes on the Chongar Bridge on August 7, suggesting that Russian officials may have ordered them not to comment on Ukrainian strikes on the Russians' logistical hubs.
However, analysts said, it remains unclear how this amendment or prior instructions issued by Russian authorities to bloggers affect their coverage of the war in Ukraine.
"Any significant censorship or self-censorship among bloggers will affect ISW's ability to cover Russian operations. But we will continue to monitor changes in the Russian information space that may affect open source reporting on the war in Ukraine," the Institute for the Study of War explained.
As reported by OBOZREVATEL, Russia will try two of its officers accused of violating the rules of combat duty to repel a "surprise attack on Russian territory." Both servicemen will go "on trial" for "not preventing" the shelling of their unit in the Belgorod region allegedly hit by the AFU back in April 2022.
Only verified information from us on Telegram channel Obozrevatel and Viber. Do not fall for fakes!