Trending:
Is it possible to take off shoes in an airplane: experts explained the rules of etiquette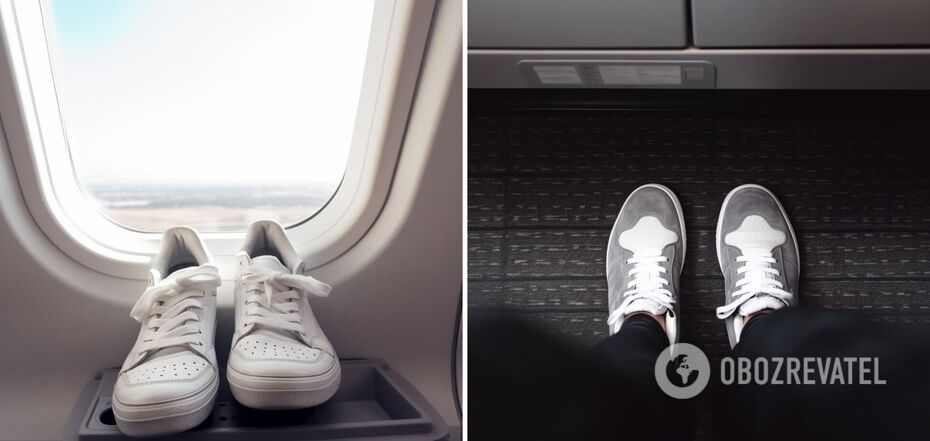 It is generally permissible to take off your shoes in an airplane, but under one condition
Traveling in an airplane has higher requirements for mutual courtesy of passengers and respect for other people's boundaries. After all, you are in a very confined space for a long time and there is no chance to change the situation, have privacy or make a stopover. That is why it is so important to observe the rules of etiquette on board the airplane.
OBOZREVATEL tells how to behave properly in the cabin of the airliner. And what to do to be a polite passenger. Here are the main points
Is it possible to remove shoes on board the airplane?
On a long flight, feet can swell, making passengers want to shed their shoes. Etiquette experts say you can do this if you are wearing socks. It's rude to show off completely bare feet. Therefore, if you know you will want to take off your shoes, take a pair of socks on board.
What is the correct way to recline the seats?
It may be comfortable for the person sitting in the chair to move the backrest to a reclined position, but the person in the back is usually not very enthusiastic about it. This is especially true if they are using the folding table in the backrest - for example, by placing a gadget or a drink on it. So always check first if the person is using the table right now, and ask if they mind if you change the position of your seat. When food is served on board, be sure to put the backrest in an upright position.
How do you deal with a child who pushes your seat from behind?
Many people find this situation most unbearable. And parents traveling with a baby are incredibly stressed during the flight for the same reason. So, if you are not lucky enough to be in the seat in front of your child, try to keep your cool and be polite. Calmly turn to the adult accompanying the child and ask him or her to intervene, to persuade the baby not to push you. Do not address the child directly - this can be perceived as aggression and can greatly exacerbate the conflict situation at its very beginning.
Can I wear makeup or groom myself on board an airplane?
If your actions do not disturb other passengers, of course you can. Putting on a face mask, eye patches or eyelash extensions before boarding is unlikely to disturb other passengers. But if you spray some sprays around you, use perfume or wave your hands around a lot to, for example, do your hair, it is already a violation of other people's boundaries. Which is impolite and against etiquette.
Can I watch movies or listen to music without headphones during the flight?
Absolutely not. Your movie or music may disturb other passengers from chatting or sleeping. In the end, it may just annoy them, because they have different tastes. Therefore, if you plan to entertain yourself on board the plane in this way, make sure you have headphones. The same goes for children.
Earlier OBOZREVATEL told, whether it is possible to consume food and drinks in public transportation, according to etiquette.
Subscribe to OBOZREVATEL channels in Telegram and Viber to be aware of the latest events.